The
Beggin' Pet Parade
 was good basic training, but I don't think anything could have truly prepared us for Mardi Gras in New Orleans.  As we walked out the front door yesterday morning, we immediately knew it was going to be an interesting day.
"Will, why are the Ninja Turtles, Buzz Lightyear and Teen Wolf in the street?"
It was almost 10 am, so the locals were giving me strange looks because I hadn't been drinking Hurricanes for four hours.  So to blend in we walked across the street to Bridge Lounge to try one of their famous mojitos.  Now, I'm pretty sure the bar would have welcomed anyone or anything on Mardi Gras, but the cool thing about Bridge Lounge is that it is pet-friendly year round.
When Eko is the calmest creature in the room, you know it's a serious party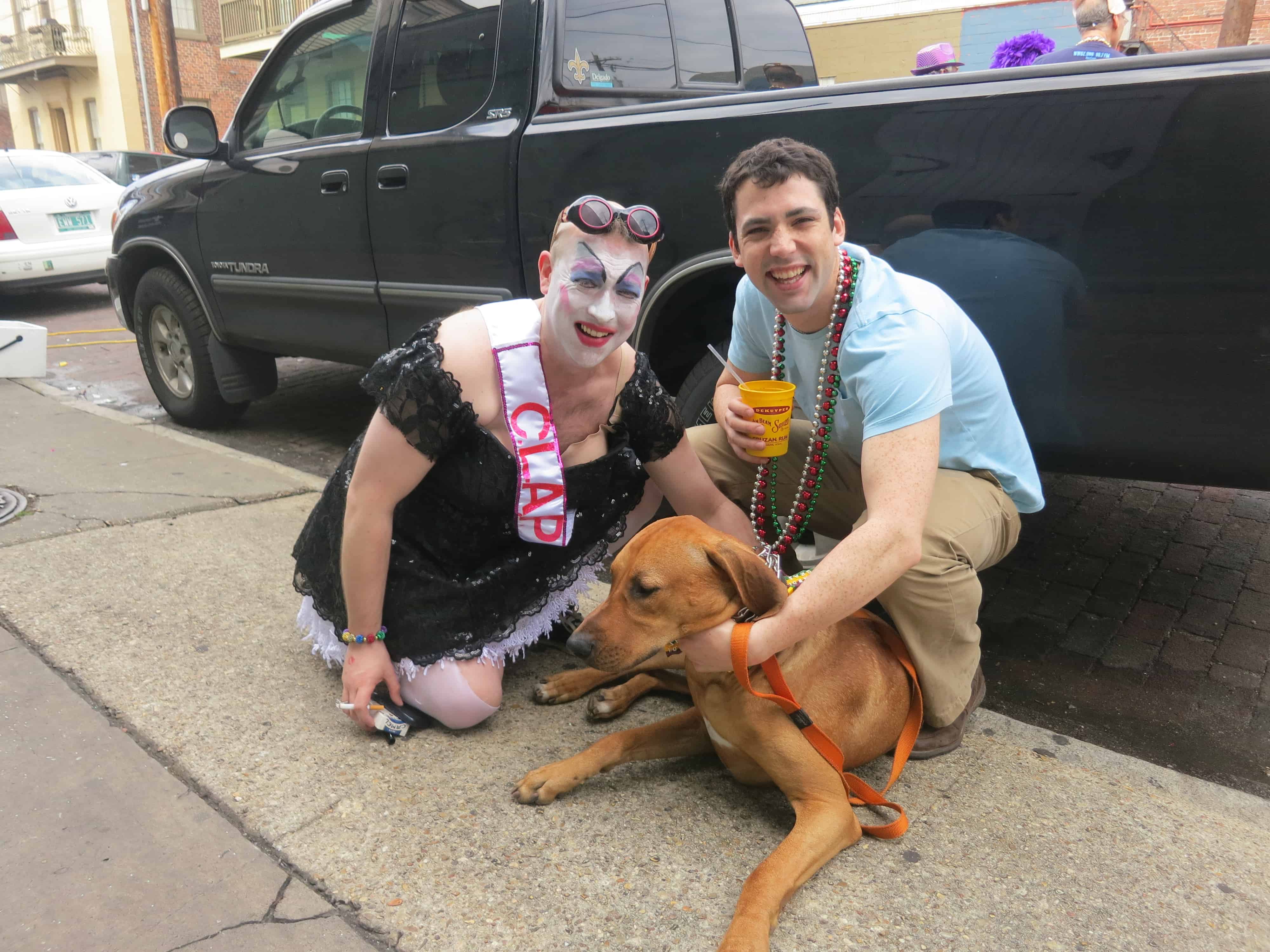 Eko and I made fast friends with a ton of costumed characters
Not wanting to miss out on the fun, we donned our Blues Brother's outfits
Mardi Gras is all about the parades, so we spent a lot of the day checking out the floats from each krewe. The parade route is obviously crowded, so if you have a dog the smartest thing to do is to watch the floats from any one of the side streets.  We set up camp in a few different areas and I would recommended any of the side streets along St. Charles as a great spot to see all of the action.
The members of each krewe toss beads, toys and other gifts from their floats
If you're hungry, there are plenty of interesting lunch options
I loved watching the parade go by and Eko loved all the food everyone dropped.  I swear he  must have eaten the equivalent of five chickens and two alligators yesterday.  Just walking along the streets and seeing all the revelers was an adventure in itself.  Eko and I made it pretty far downtown along the parade route, but Bourbon Street on Mardi Gras is definitely not safe for dogs, so we ditched the crowds and headed back.  Eko didn't come home emtpy pawed though:
The Zulu Krewe was good to Eko
Everyone and everything is welcome at Mardi Gras, and it was great to be part of the celebration.  New Orleans really knows how to treat a dog right!