The nice thing about
montages
is that they don't take up a lot of time, so the day before the dog show Eko and I had the afternoon free to explore some other parts of the city.  Eko worked up an appetite doing his best Rocky impersonation, so finding some food was his number one priority (not like that's a different priority than he always has).  On our walk over to the Art Museum I spotted a store called
Just Dogs
! that advertised its offerings as "The World's Tastiest Gourmet Dog Treats."  I wasn't sure if there was some dog that works for the
New York Times
who hands out that award each year, but I did know that I had one dog food critic who would be eager to put that claim to the test.  (Note: Although I have tasted Eko's dog food out of curiosity, I am referring to Eko as the aforementioned critic.)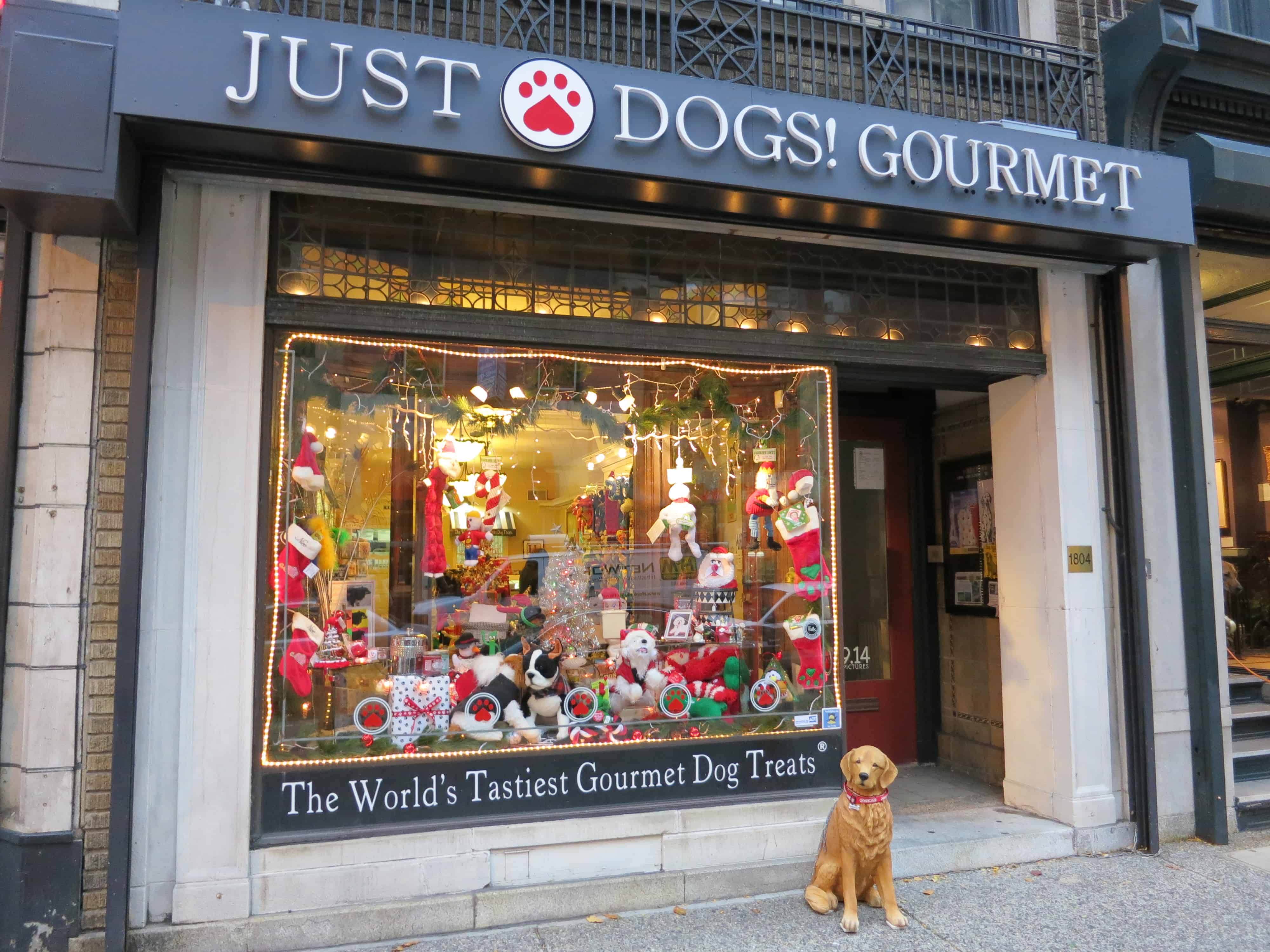 We'll see what Mr. Eko has to say about that.
There are many reasons I am glad the dog leash was invented.  To name a few, a leash prevents Mr. Eko from chasing squirrels, deer or humans.  One more reason I was glad to have a leash was when we walked into Just Dogs!  Unlike squirrels, deer or humans, the gourmet dog treats would have had no chance to escape a loose ridgeback.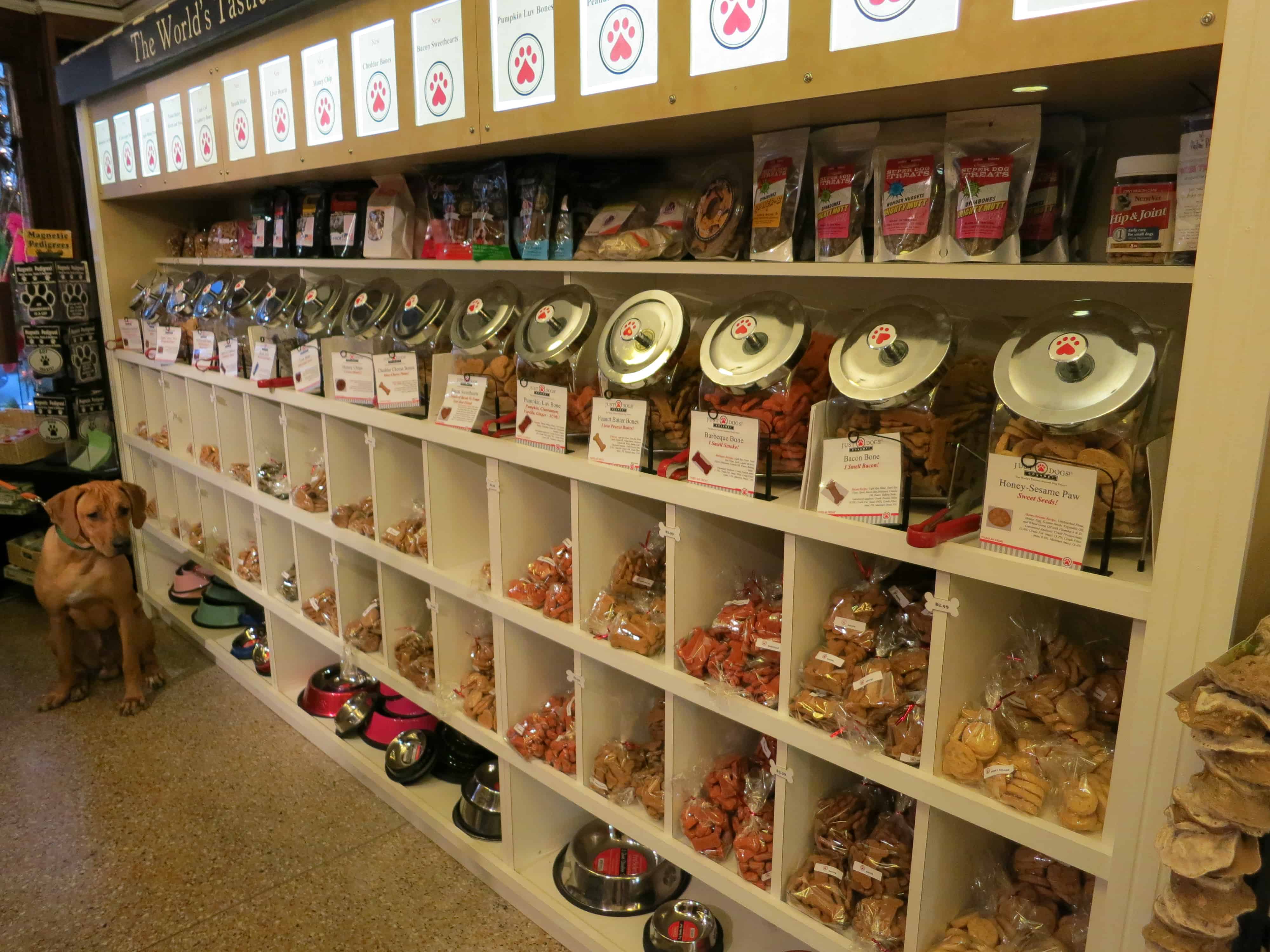 "Just let me off the leash, I promise I won't touch a thing…"
I have never seen a bull in a china shop, but I imagine it would be a much calmer scene than a Mr. Eko in Just Dogs!  Owner Marianne Charbonneau embraced Eko's enthusiasm and was happy to tell us about all of the home baked treats.  It was great to meet someone who was so passionate about pets and passionate about her craft.  Don't take my word for it, I practically had to drag Eko out of the store.  If you are in Philly with your pup, Just Dogs! is definitely worth a visit.  Just be sure to have a firm grip on your leash.  Eko had his fill, but I needed some dinner so we stopped at an ATM before heading over to the Northern Liberties section of the city.
Don't spend it all in one place
The Northern Liberties section of Philly is an awesome place for dogs – I could barely walk a block before someone would stop me and want to talk about Eko.  I have quickly learned that when you travel with a dog the entire world is your friend.  There are plenty of restaurants in Philly with outdoor seating, but it wasn't until Eko and I hit Northern Liberties that I felt like we hand found a truly pet-friendly spot.  The waitress at
The Abbaye
had barely handed me my menu before she returned with a bowl of water and a snack for Eko.  If you are looking for some great pet-friendly dining in Philadelphia, you can't go wrong in Northern Liberties.
Northern Liberties – Where the waiters pay more attention to your dog. And you like it.
You can't visit Philadelphia without checking in with our founding fathers, but as it turns out the patriots of Independence Hall are not available after dark.  In any event, dogs aren't allowed inside to sniff out the Liberty Bell, so we didn't miss much.  In protest to all dogs who are not allowed in the museum, Eko decided to start an Occupy Sidewalk movement.
Give me liberty or give me treats!
I eventually convinced Eko to hit the road so we made our way over to JFK Plaza aka Love Park.  When you're in the city of brotherly love, Love Park is a mandatory photo op.
The guy in front of us proposed to his girlfriend.  I proposed Eko and I get a cheese steak.
Eko and I had a great time on Friday but we called it an early night, so we would be well rested for the National Dog Show today.  Check back on Monday for our report.