I'm fairly certain that the majority of my life goals are based on the exploits of heroes from children's books.  I love(d)
Where The Wild Things Are
and I always dreamed of going on adventures with wild creatures.  Now here I am traveling the country with Mr. Eko. On Sunday night I got to check off another line on the bucket list when Eko and I took a ride on the Polar Express
 .
Not gonna lie – I was way more excited than all the little kids
The Polar Express event is run by the
Maine Narrow Gauge Railroad Museum
 and features a forty-five minute train ride to the "North Pole."  The kids wear their pajamas on board and listen to a reading of
The Polar Express
while costumed local high-school students serve up hot chocolate.  Once the train reaches the North Pole, Santa hops on and listens to the Christmas wishes of everyone on board. (Eko wished that I would leave a Christmas ham unattended.) The Narrow Gauge Railroad welcomes dogs on all of its trains during the regular season; for the Polar Express event in November and December they can accommodate dogs during one of the less crowded rides. Call ahead and shoot for a Sunday night early in the season.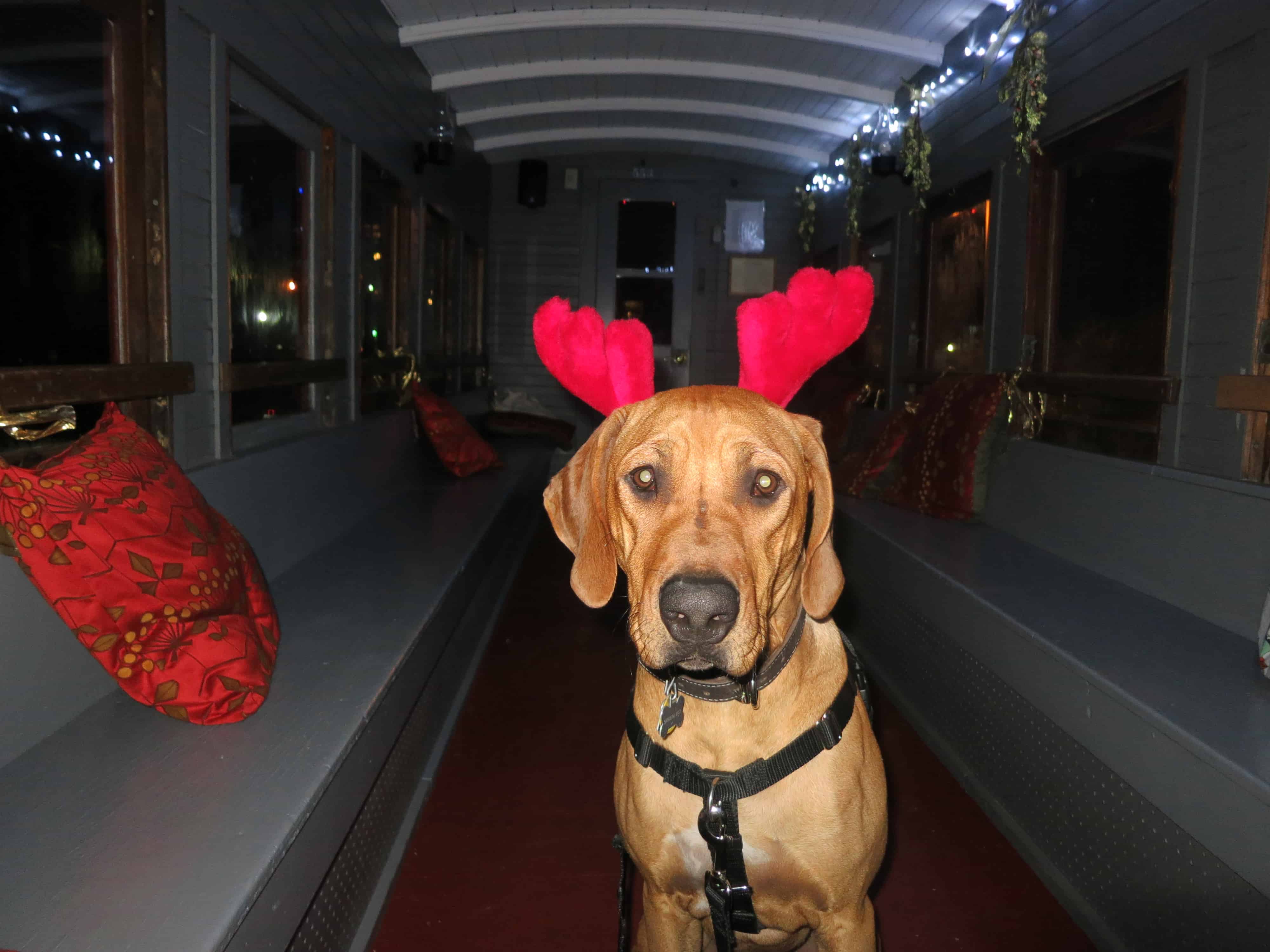 Thankfully the Polar Express also accepts reindeer on board
All of the kids loved seeing Eko with his antlers on and a number of the younger ones vigorously argued about whether Eko was a real reindeer.  I settled the argument when I matter-of-factly informed the kids that Eko was a real reindeer, but that he was just a baby one.  The three-year-olds agreed that my classification was spot on and returned to their cookies.
From start to finish, the Polar Express ride was a fantastic trip.  The event is staffed by enthusiastic local volunteers and all ticket proceeds go towards supporting the museum. You are never to old to enjoy a good children's book and there is no better way to get in the holiday spirit than seeing The Polar Express come to life in Portland.  Even if you're traveling with you dog, you don't have an excuse to miss out on the fun!
Santa even had time for a photo with a couple guys on the Naughty List
The Polar Express was hands down the most fun we had in Portland and I can't recommend it enough.  Don't miss out!
It took us a bit longer than expected to get settled in Concord, NH yesterday, but we are ready to hit the ground running today.  The plan is to stretch our legs and get the lay of the land along the Rail Trail in Hookset and then head over to the dog park on West River Road.  Be sure to let us know if you are in the area or if you have any suggestions about where we should stop.