Eko and I don't really do much to dispel stereotypes – we are two guys from Jersey who love going to the beach.  Lucky for us, there are plenty of beaches in Maine and a good number of them are  dog friendly – especially in the off season.  Our hotel,
Inn by the Sea
, sits right on one such beach, and Eko and I began the day with the shoreline to ourselves.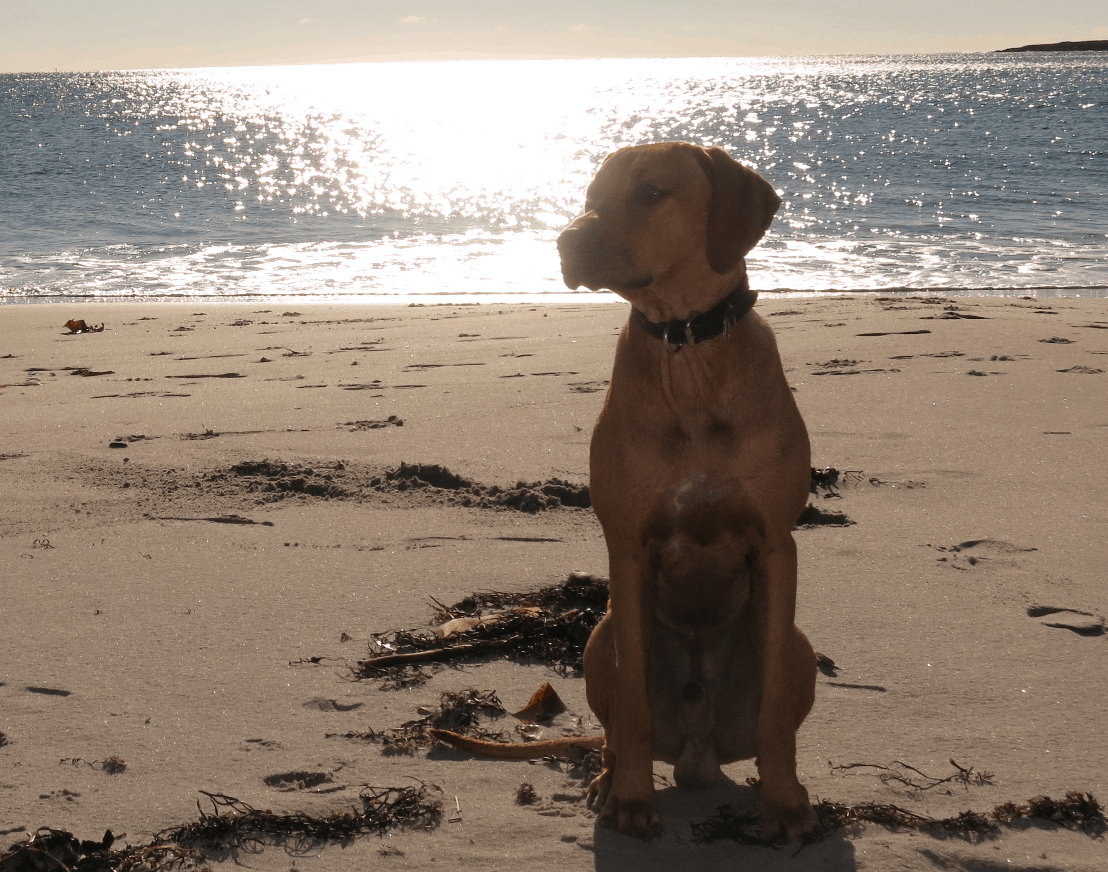 Eko did his best Baywatch pose
After stretching our legs a bit, we headed into downtown Portland and parked on Commercial Street.  Commercial runs right along the water and is lined with boat yards and seasonal seafood restaurants.  Even the retail stores on Commercial join in on the nautical theme.
Eko tried to eat this guy's peg leg
We also stopped by Fetch, a downtown dog shop that looked and felt familiar.  I couldn't put my finger on it until I saw that Fetch's logo was the exact same as the one used at the Fish & Bone in Boston.  At first I thought someone was about to have a serious lawsuit on their hands, but it turns out that the Fish & Bone stores are owned by the same people who started Fetch.
Eko said it would be rude not to buy him at least one or ten treats
At the end of Commercial, we looked up the street and saw the Shipyard Brewery.  I have a theory that people that like beer also like dogs.  My theory was once again proved right because the employees at Shipyard LOVED Eko.  They happily let us come in and check out the store, but unfortunately we didn't have time to stay for the tour.  I picked up a six pack as a consolation prize.
Next up was the Eastern Promenade, a park located on the eastern edge of the city.  You can walk through the park starting at Commercial or you can park on the northern edge.  No matter where you come from though, the highlight of the park for dogs is the beach.
Seeing double?
We met a six month old Ridgeback at the beach and the two distant cousins got right to work chasing each other up and down the shoreline.  The beach area is sectioned off, but it's not fenced, so you should be comfortable with your dog off leash if you visit.  There were only a few dogs at the beach today, but we hear it really picks up on the weekends.  I have a feeling that we will be making another visit.
Congress Street, Portland's historic area was closed off when we tried to check that out, so we'll have to give it a go again tomorrow.  Unfortunately we still haven't succeeded in catching any lobsters, but we will not give up!
I didn't let Eko catch any toy lobsters either
If you live in Portland and have been working like a dog all week, head over to Snug's bar tomorrow night to meet a couple of Jersey beach bums.  I'll be grabbing dinner and I hear that Eko may be welcome as well.  Hope to see you there!