We have something of a direct democracy in this household. Eko and Penny submit their votes directly to me. Although they're independent parties, they both usually tow the same party line – "Feed us earlier. Feed us more. Take us out ASAP. No, even more ASAP than that, hurry up!" I think I'm an accommodating president/tyrant, but there are times when the pups don't get what they want, exactly when they want it. For some reason, Eko likes to formally lodge his complaint of mistreatment by sitting on my clothes.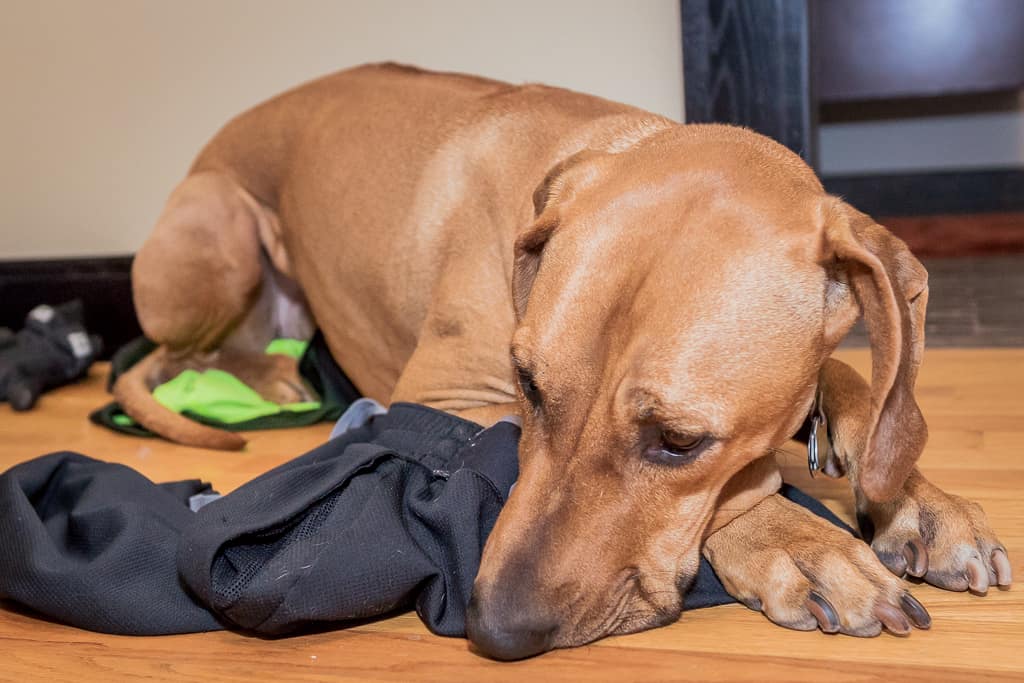 When Eko doesn't get dinner 30 minutes early as hoped, he huffs and puffs and pouts by laying on my gym clothes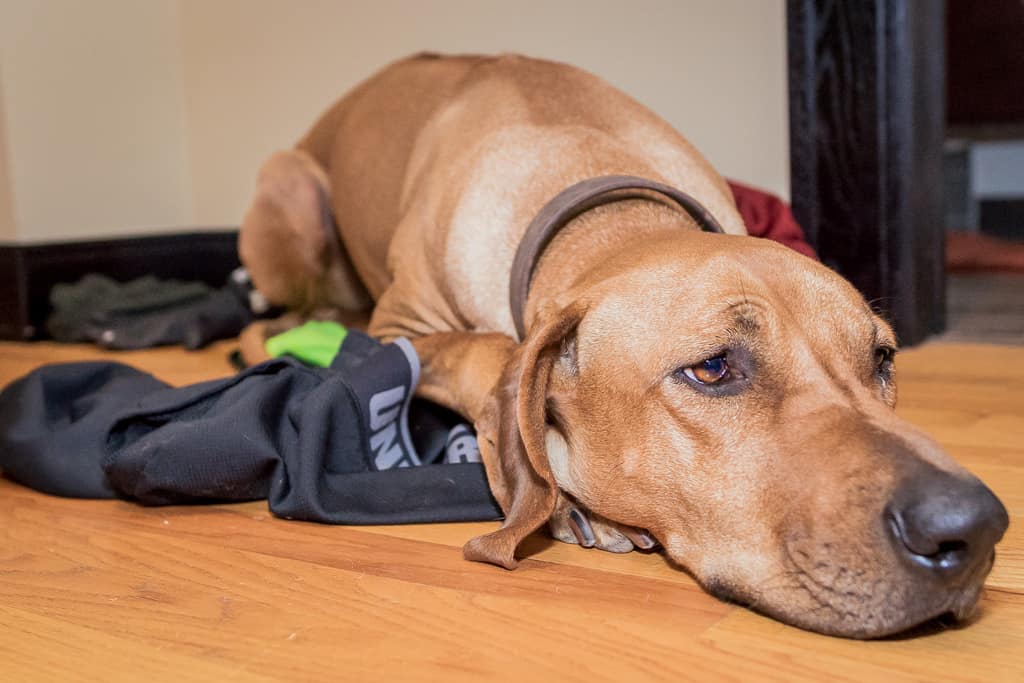 I'm not sure if it's a passive-aggressive act,  or an attempt to gain my attention, or something else entirely. But I do know it's quite deliberate
Eko is also savvy enough to know when I'm leaving on an unsanctioned trip without him.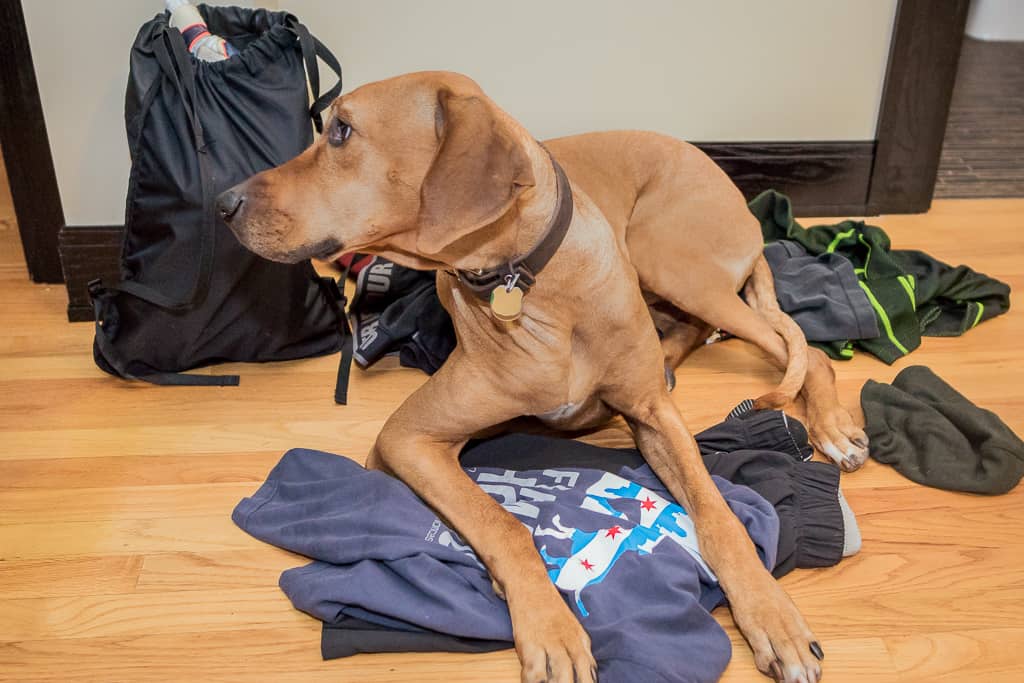 So when he sees me pack up for soccer he'll nonchalantly flop on my stuff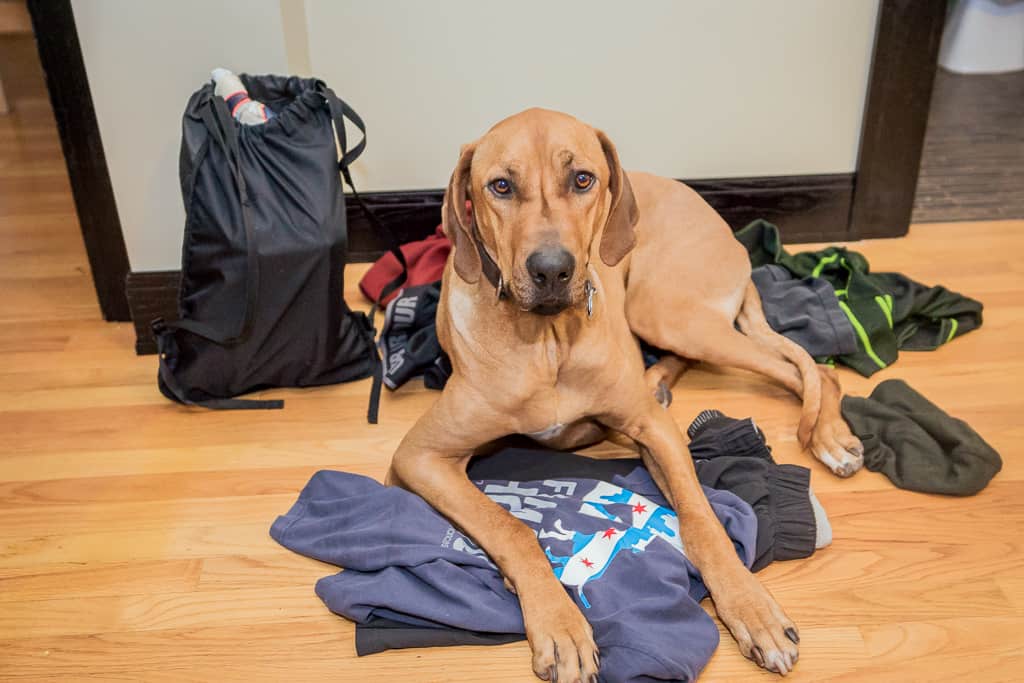 "Oh, yes, by all means, leave poor Eko at home and go have fun at soccer"
My favorite form of Eko's sit-on protest is when he tries to wake me up ahead of schedule. If I admonish him for an early morning nose-poke to my face and tell him to get back to bed? Eko chooses another destination for his robust rump – my clothes.
Trying to drop a hint?
When I do get out of bed, Eko quickly hops up and gives me his best puppy-dog eyes.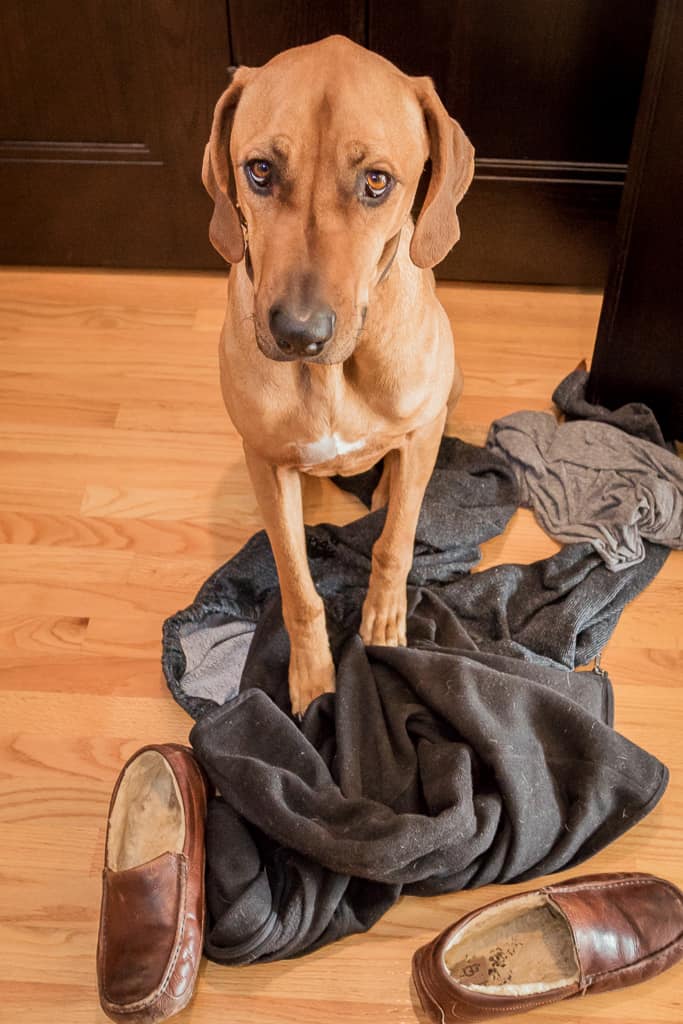 "Sorry for waking you up, I warmed your clothes for you."
I know "dogs sleeping on clothes" is a common behavior, but I can't quite make sense of exactly why Eko does it.
He never does it when Emily or I are gone. He sometimes does it because he wants me to do something. Yet other times he does it because he doesn't want me to do anything or go anywhere.
Maybe it's a passive-aggressive pout or maybe it's a way to muster up some attention and love from me. One thing I do know for sure is that Penny doesn't buy the act one bit – she's never laid on my clothes a single time.
Anyone have guesses for what motivates Eko (aside from a love of fashion)? Or if you have a fellow clothes-hound, I'd be interested to hear about when/why they like to use your wardrobe as a bed.