Before circumstance and timing led me down a different path, I looked for my second pup at Petfinder.com and I wanted to share my experience for those considering adopting/rescuing a pet.
There are plenty of misconceptions about adoption but there is one very real issue with adoption/rescue and it has nothing to do with the pets or shelters. Every person and every situation is different. Some people live in buildings with weight restrictions and some people live in cities with breed restrictions. Yes, both restrictions are silly, but they still impact what kind of dog a person can get.  Similarly, some people want an active hiking companion, while others are looking for a low energy pal.
If you look to adopt from a particular shelter, you might not find a four-legged buddy with the matching personality/energy level you're looking for. Enter Petfinder.com. One single search sifts through 300,000+ adoptable pets from 13,000+ adoption groups!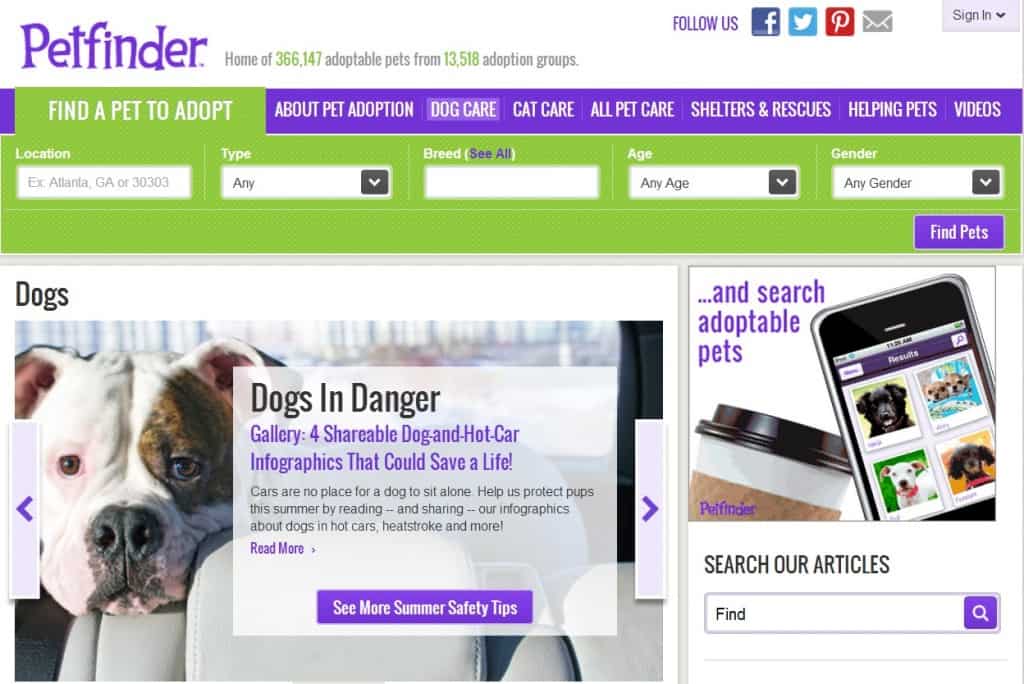 Instead of going to one shetler, Petfinder brings thousands of shelters right to your computer, tablet or phone
No matter what kind of pet you're looking for (cats, dogs, horses, scaley things, they have it all) Petfinder allows you to input your exact search criteria.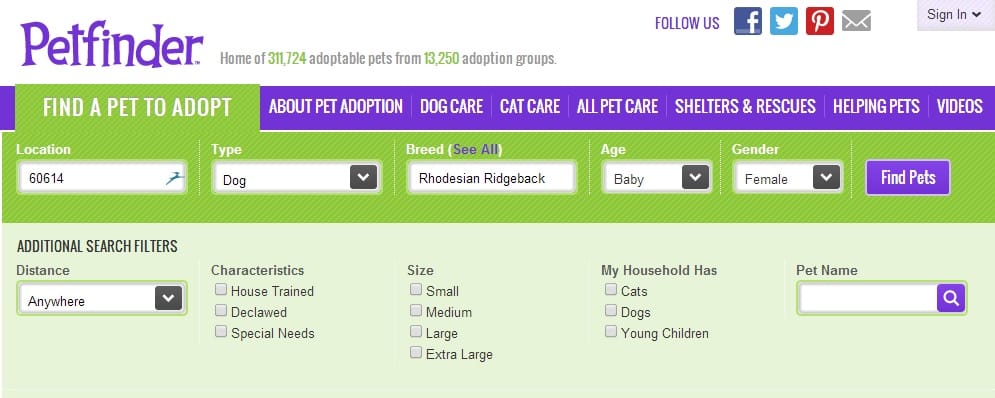 With the highly-customizable search function it was easy for me to do a catch-all search for young, female Ridgebacks
What I like about the search function is the gradient response. If your search doesn't return any exact results, it will return varying partial hits. At the time of my search there were no female Ridgebacks under nine months old, so I was presented with juvenile/adult Ridgebacks along with younger Ridgeback mixes. One girl in particular really caught my eye.
 I'm from NJ, so between her name, her photo and her story I was head over heels for this girl. But I wasn't the only one, she was adopted within 72 hours of when I first saw her
What I particularly love about Petfinder are all the options you have. If you don't find a pet in your first few searches you can set up search alerts. Interested in a specific breed? Petfinder also provides direct links to thousands of rescue organizations like RidgebackRescue.org.
To get involved, you don't even have to go to Petfinder. Petfinder comes right to you on Facebook and Twitter with adoption updates/tips you can pass along. The power of technology to crowdsource adoption efforts is truly incredible.
Petfinder has some of the best developers in the biz
With over 150,000 monthly adoptions, Petfinder.com is an amazing, customizable resource for finding the perfect addition to your family. Be sure to check out the site and Facebook/Twitter for more info!