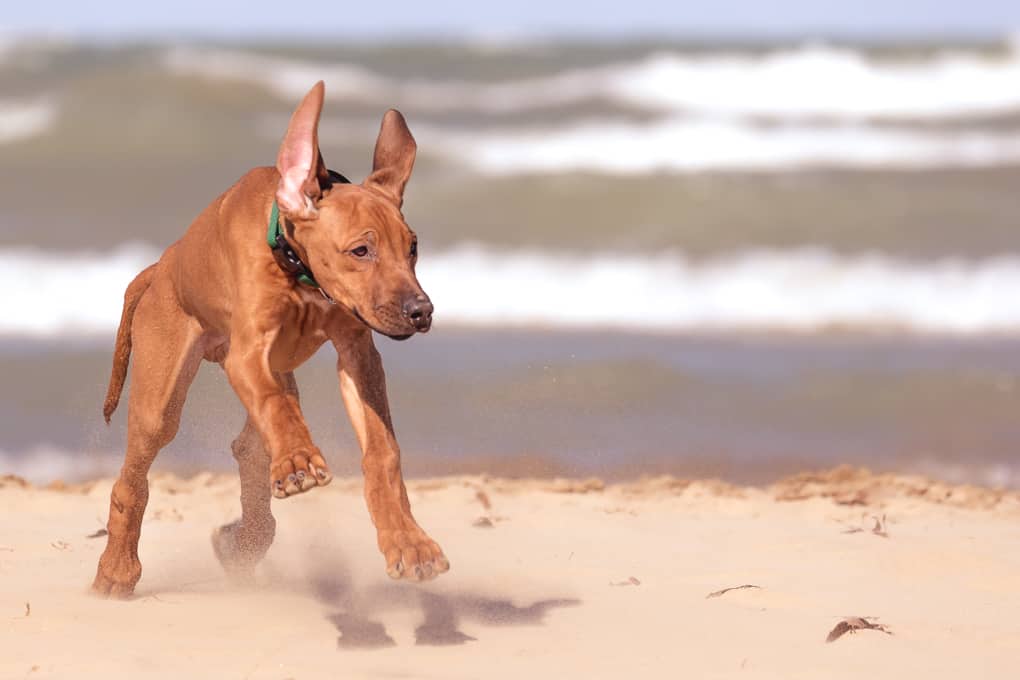 Over the past few years I've learned my dogs are the compass by which I navigate the uncertain territory of my own identity. The needle of this compass does not point outward to true north, but inward to true self. That needle
led me across the continent
, pointed me
down the wedding aisle
,
lifted me to blissful heights
,
dragged me through hell
, and
showed me the way out
.  That needle is love. Not the love shared between people, or even the love shared between people and dogs. That needle is my dog's unmitigated love for the present moment.  And when I let that love guide me, there I find myself. Again. Because that's what the inspirational quotes never tell you about finding yourself. It's a full time gig. Despite being tethered quite securely to these bodies of ours, it's remarkably easy to lose yourself. Even when you do manage to find yourself, you eventually get tired, or upset, or confused, and before you know it you're lost again. Thankfully there are many ways we can find our way back. Some go to prayer, some go to therapy, some go to yoga, some go meditate, some go for a run, some go paint. Some do a bit of it all. Me? It seems my compass always points back to Montrose Dog Beach. The day I visited the beach for the first time with Zero I felt more like myself than I had in a long time. Zero needed no explanations or introductions – he simply took off across the sand with unbounded enthusiasm.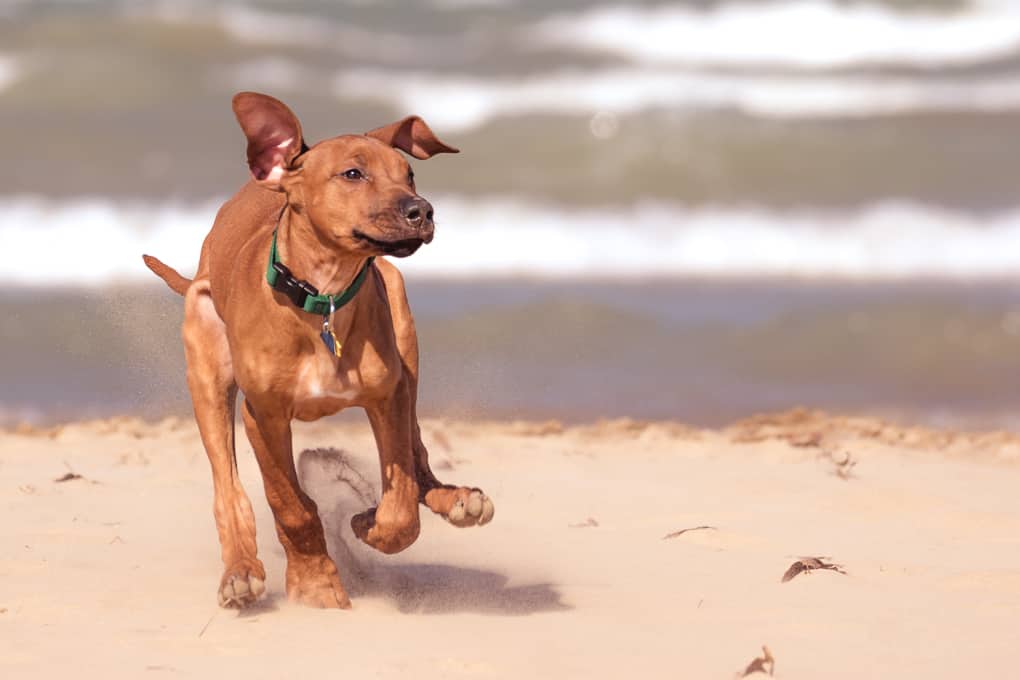 He raced in one direction, then another, then chased a floating leaf, then jumped on a bench, then fell off a bench, then barked at a bench, then took off running happier than before. He had no idea what he was doing and he loved every minute of it. I can relate.
We stayed at the beach until Zero's puppy-battery finally gave out. He flopped on the sand with the exhausted contentment I've always admired about dogs. They give the moment everything, so there are no regrets when it's over. Because when we left the beach that day there was no guarantee we'd be back. One day is always your last day at the beach. But that wasn't ours. We woke the next morning to ominous skies and whipping winds. So we went to the beach.
A cold front hit Chicago the next day and sent temperatures below freezing. We put on our coats, then went to the beach.
Each trip to the beach is another opportunity to find myself. As I find my path, so too do Penny and Zero discover their own way forward together. Each learning from and teaching the other about their shared life.
The snowstorm hit that evening. The next morning was a frenetic rush of shoveling, scraping, working and trying to catch up on my to-do list.  The snow threw off my day, I got frustrated with the backlog of work I'd let pile up and I had no time to take the dogs to the park. Until I was reminded of the old zen saying, "You should sit in meditation for twenty minutes every day – unless you're too busy. Then you should sit for an hour." I was too busy, so on went the jackets and out we went for some snowy meditation.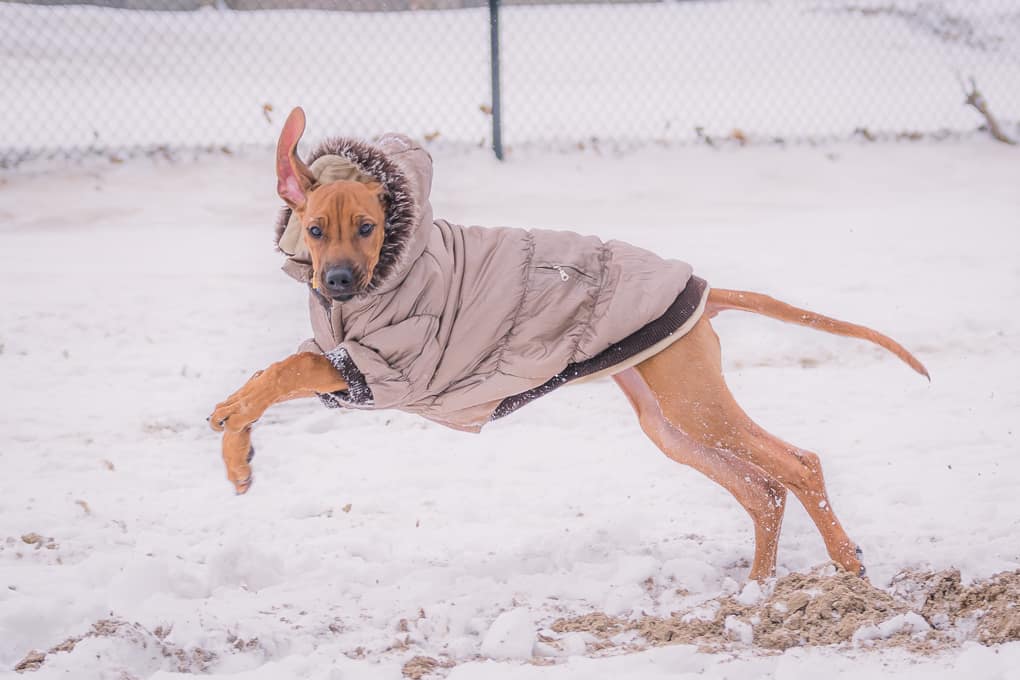 The problems I lose myself in simply cannot match the power of watching a puppy galavant through the snow in a fur hooded jacket.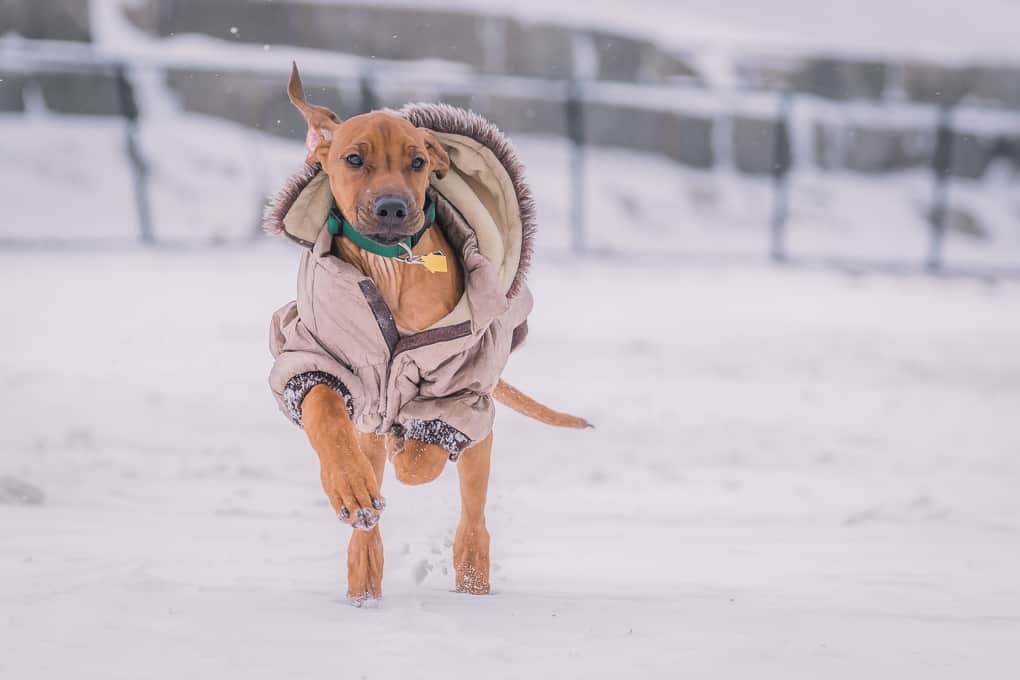 Watching Penny and Zero at the beach always reorients me towards what's important. I've noticed the further I get into these inward journeys, the more useless words become. There's simply no way to navigate the deep jungle of ideas, impulses, feelings, memories, consciousness and subconsciousness with language. Thankfully my dogs are kind enough to wordlessly guide me each day.