Despite being the home of the Red Sox, Boston is actually an extremely cultured and historic city.  It's tough to walk a block without passing a building or location of seminal importance to the founding of our nation.  It's a lot to try to sort out on your own, so Eko and I decided to take a walking tour of the Freedom Trail.  Your dog always needs a walk, so why not combine it with some history and education too?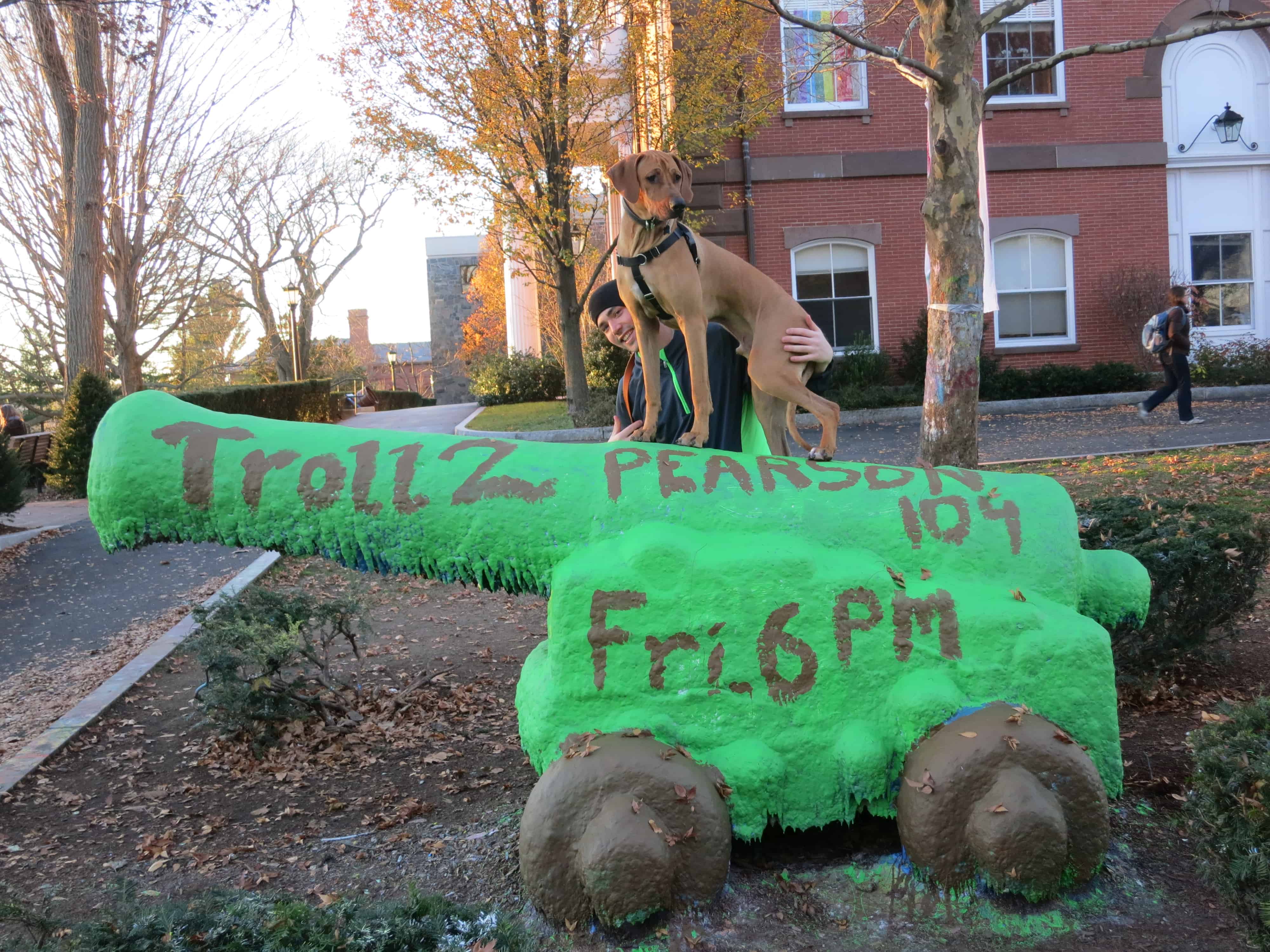 Prior to our tour, Eko defended the Tufts campus from squirrels
The Freedom Trail Foundation runs tours from 11 am – 3 pm on the hour every day with a tour guide who adopts the persona of a notable character from the revolutionary era.  Our tour guide, Elizabeth Murray (Cara McIntyre) was one of Boston's most wealthy and powerful female residents.  Elizabeth immediately recognized Eko as a Ridgeback, which means she must have also been a time traveler because the first Ridgebacks weren't around until the 20th century!!!
Talented people make difficult things look easy and the same held true on our tour.  Cara effortlessly guided us through the revolutionary era history of downtown Boston, rattling off names, dates and interesting pieces of trivia the whole way. Who knew Paul Revere was also a dentist?
Listen my Eko and you shall hear / Of the midnight ride of Paul Revere
I recommend the tour for any humans who visit Boston, but I especially recommend the tour for any human/canine teams.  I was so impressed at how welcoming Cara was of Eko.  Eko was on his best behavior for most of the tour, but at one point he decided to dramatically flop on the ground.  Cara graciously made a quick joke and went right on with the tour without missing a beat.  Sometimes you can feel out of place with a dog in tow, but this tour was not one of those places.
Our awesome guide, Cara
The tour costs about $13 and it might be the best $13 you spend in Boston.  You get to take in the city sights, learn some fun history and your dog gets some great exercise.  The tour ends in Quincy Market, a cool area for shopping and eating.  Eko and I walked down the streets and soaked up the scenery, but there was a problem.  I had to go to the bathroom, I was hungry, I was alone, I was four miles from the hotel and I was attached to an 85 pound puppy.
My lack of planning could have been disastrous, but luckily I met a guardian angel.  Desperately hungry, I asked one woman where she got the Chinese food she had in a to-go container.  As she pointed to a nearby building, she must have seen the sadness on my face because her next words were, "If you want, I could watch your dog while you run in."
Now Eko is not only my loyal companion, he is also my co-worker so I don't ever leave him with anyone I don't trust.  Despite my (many) shortcomings, I pride myself as a judge of character, and I could tell that the young lady would dutifully watch Mr. Eko.  I dashed into the building, went to the bathroom, grabbed some food and returned as quickly as I could. The name of our hero turned out to be Kyle and I just wanted to thank her here for saving the day!
Thank you!!!!
So the moral of today's adventure is to take your dog on the walking tour of the Freedom Trail AND plan ahead if you are doing it alone!
We only have two more days in Boston so don't forget to let us know about any places we've missed.  Drop us a line in the comment section or follow our antics live on Twitter @WillandEko.