As I
mentioned a couple days ago
, our landlord is selling the apartment so we're on the hunt for a new place. For my own benefit I thought it would be helpful to document the process to make sure I find the best place for Emily, Eko and myself. Hopefully it might also offer a template for future city-dwellers on their own quest for a pet-friendly domicile. (Domicile is one of my favorite words, by the way.) So how do you open the door on a new beginning in a new apartment?
When one door closes, another opens. Or you open it yourself!
As someone who has nearly bludgeoned himself to death because he didn't take time to read the IKEA instructions, I know exactly how important it is to prepare ahead of time. Preparation is key for anyone about to begin an apartment search, but doubly so for anyone with a dog. Here is my initial checklist.
Budget – 
Unless Eko's
bet with Warren Buffet
pays out, we're apartment hunting on a budget. My first order of business was to establish a monthly budget which includes rent, utilities and any other recurring payments. I also left myself a note to remember to ask about one time fees – application fees, move in fees, pet fees, etc. – which can easily eat up money.
Fees can eat money faster than even Eko could
Location – 
With a general budget in mind, it was time to choose a location. Chicago has a lot of great neighborhoods and each offers its own perks. Rather than compare each one, it was easier to first limit my choices. For work, Emily needs to be within a reasonable proximity to the hospital. For Eko, we need a neighborhood where it's convenient to walk him (aka not a highrise), there's somewhere nearby he can run off leash, and preferably we're close enough to jog to the lakefront.
Correction: Close to the lake is a priority. No way I could deny Eko this much fun
A quick tally of these needs leaves us with three major neighborhoods: Old Town, Lincoln Park (where we live now) and Lakeview. By reducing our choices and limiting our options it actually makes it more likely we'll find a place we're happy with. Sounds unintuitive but check out this
TED talk on the paradox of choice
for a cool explanation..
Amenities – 
We have a budget and a location but we're not quite ready to start looking just yet. I find it helpful to separate amenities into "wants" and "needs." The most basic need is a dog-friendly building. Unfortunately, not all such buildings are created equal. Last time we searched for an apartment in Chicago we wasted a lot of time looking at apartments with weight limits.  Weight restrictions make no sense, but I'll save that for another post. For now it just matters I'm cognizant to check the apartments are big-dog-friendly. Beyond that, we can have plenty of wants (an in unit washer/dryer would be a nice upgrade) and wishes (a fireplace as good as our current one? no chance) but I think it's best to be flexible.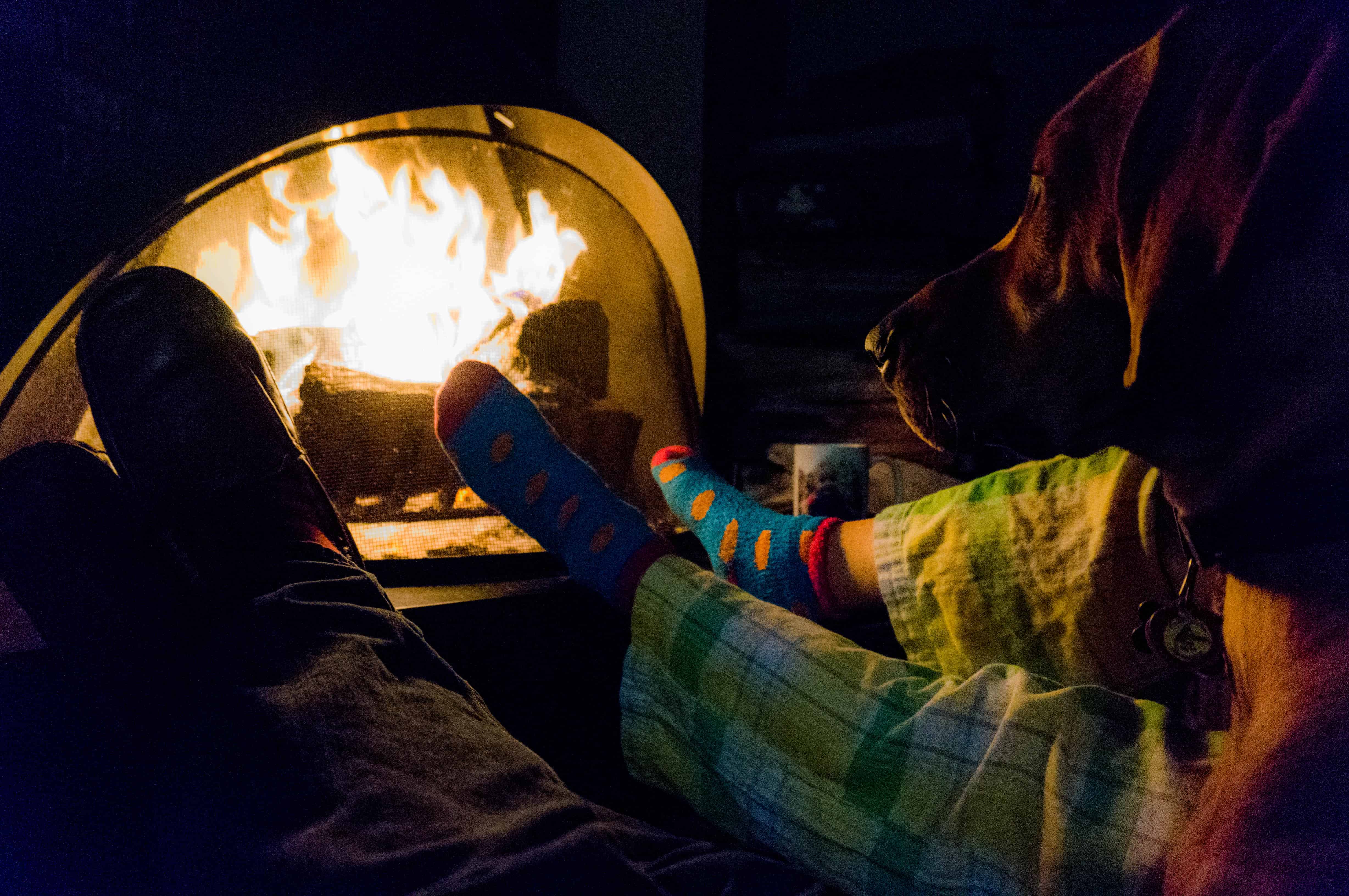 Have to enjoy these fires while we still can
Search tools – 
We are coming into the high season for Chicago rentals. May kicks off a flurry of moving which lasts through the summer. There are dozens of services and middlemen who offer to help you navigate the overwhelming number of listings. While many of these services are undoubtedly helpful, I've found you can achieve better results if you strike out on your own, especially if you have pets. Brokers have a specific selection of properties, a large number of clients and not a lot of time to devote to each person. I'm my only client and I'm naturally willing to put in more effort on my behalf than anyone else would or should. I have found the most helpful tool in managing my search is Padmapper.com Padmapper.com transforms overwhelming rental listings into a simple and manageable interface. One of the major benefits of searching on your own with padmapper is that you are more likely to find an owner who only manages a small number of properties and is willing to negotiate when it comes to pets.  Additionally, some owners will post directly to craigslist so padmapper finds offerings which third party services might not have listed. This is how we found our current apartment. So with a budget, location, amenities and search tool all laid out, let's check out a map of my first search effort:
All the gray icons are apartments that for one reason or another won't work. Cue The Price is Right losing horns. But this brings me to my last and most important point…
Persistence
– I have not failed, I have simply found 10,000 apartments that do not work. Ok, maybe not 10,000, but it starts to feel that way. Even when well prepared, the search for a new place to live can be time consuming, tedious and frustrating. Some places I looked at were too small, for other places Eko was too big (unfortunately padmapper can't filter out places with weight restrictions). For one reason or another, none of these apartments added up to the right fit. It may seem like I have nothing to show for my efforts, but knowing what won't work is vital to knowing what will work. If we're going to be living in a place for a year or two it's worth the effort.
"Don't worry, Will. We'll find a place."
I'm not the first or the last person to need to find an apartment with a big dog, I'm just the latest. I'm going to keep plugging away at the search, but if you have any helpful tips or advice from your own experiences it would be much appreciated. Thanks!