After saying hello to some
ducklings
 yesterday morning, we pulled out of Boston towards the Middlesex Fells Reservation in Medford, Mass – one of the famous stops on Paul Revere's ride.  This entire week Mr. Eko has been talking trash about how if he was the one running instead of Paul Revere's horse, the Americans would have known the British were coming at least a half hour earlier.  I don't know where that dog picked up his trash talking ways, I'm the only one he hangs out with.  Wait… In any event, the reservation was just a short drive outside the city and we were on the trails in no time.  A local told us to follow the trail up to see the view from Bear Tower. I assumed we would be climbing up some rock, but I was wrong (sort of a running theme in this blog).
I'm not a scientist, but I'm pretty sure this is not a rock
Eko was a bit wary of the spiral staircase at first, but the top of the tower offered a beautiful view of the reservoir and the Boston skyline.
Eko was much happier to walk down the steps
Less than a mile from the tower the trail opened up to a field for dogs so big that I hesitate to call it a dog park.  There were about twenty other dogs running off leash when we arrived and I was told that it was a slow day.  Apparently on the weekends there can easily be over sixty dogs.  Eko was in heaven.
And we're the three best friends that anybody could have!
Eko ran himself senseless and then for his finale took a nice roll through the dirt.  Luckily, our next stop was LaundroMutt a "B.Y.O.D" where people can wash their own dogs.  I have been to plenty of places that charge $30-$50 for a bath and you can never be sure your dog gets a thorough wash.  At LaundroMutt you pay anywhere from $5-$23 to use their facilities and you can wash your dog just the way you like.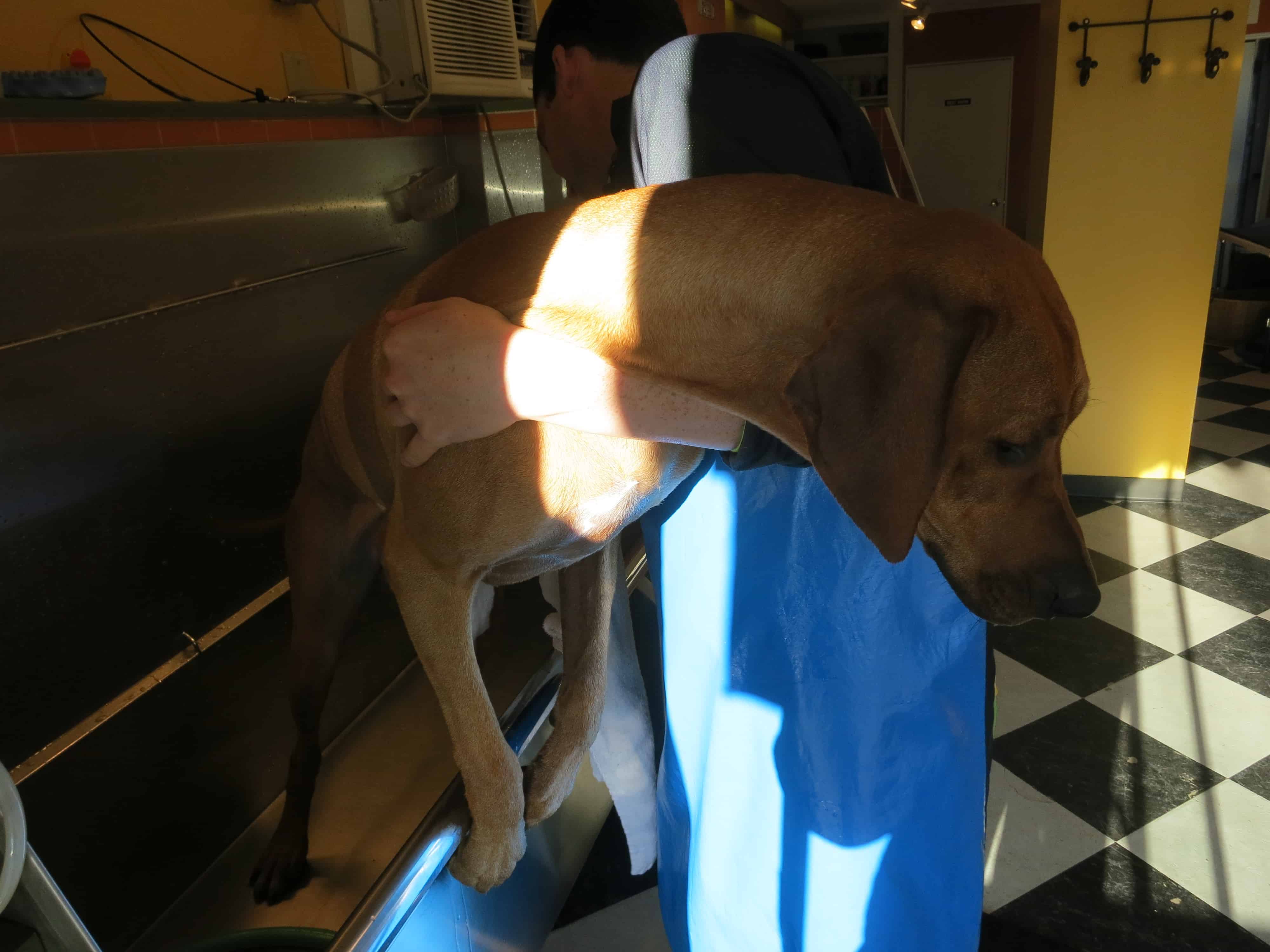 You can wash your dog the way you like, but that doesn't mean he has to like it
"Laugh it up, Will. Let's see how funny it is when I shake off."
Good as new!
The staff at LaundroMutt was extremely helpful and personable, which made our trip that much better.  Any place that can turn work into fun is my kind of place.  LaundroMutt even has a lounge upstairs where dogs and owners can hang out until a tub opens up.  My only complaint is that there are not more do-it-yourself dog washing places all over the country.  Eko was the cleanest he's ever been for the cheapest I have ever paid.
We capped off our day with a quick tour of a few local colleges and I will post some photos  from those trips a bit later today.  This morning Eko and I are off to take a walking tour of the Freedom Trail and to check out some of the local markets.  We're winding down our last few days in Boston, so send over any last minute suggestions!