I'm posting a little late today because I only just caught my breath from laughing so hard.  A biting cold has set in here in Chicago, so I decided that today would finally be the day I picked up Eko a pair (a quartet?) of boots for his paws.  Our daily urban adventures really take a toll on Eko's paws and the cold weather makes it much more likely he will injure himself.
Eko can always tell when something strange is afoot (apaw?), and as we got to the pet store he gave me his patented "I know you're up to something" look.
Thanks to lots of reader feedback, I knew it was crucial to get Eko fitted in person/dog so that we got the right pair.  Luckily, the Ruffwear box had a handy measuring chart just like at the shoe store.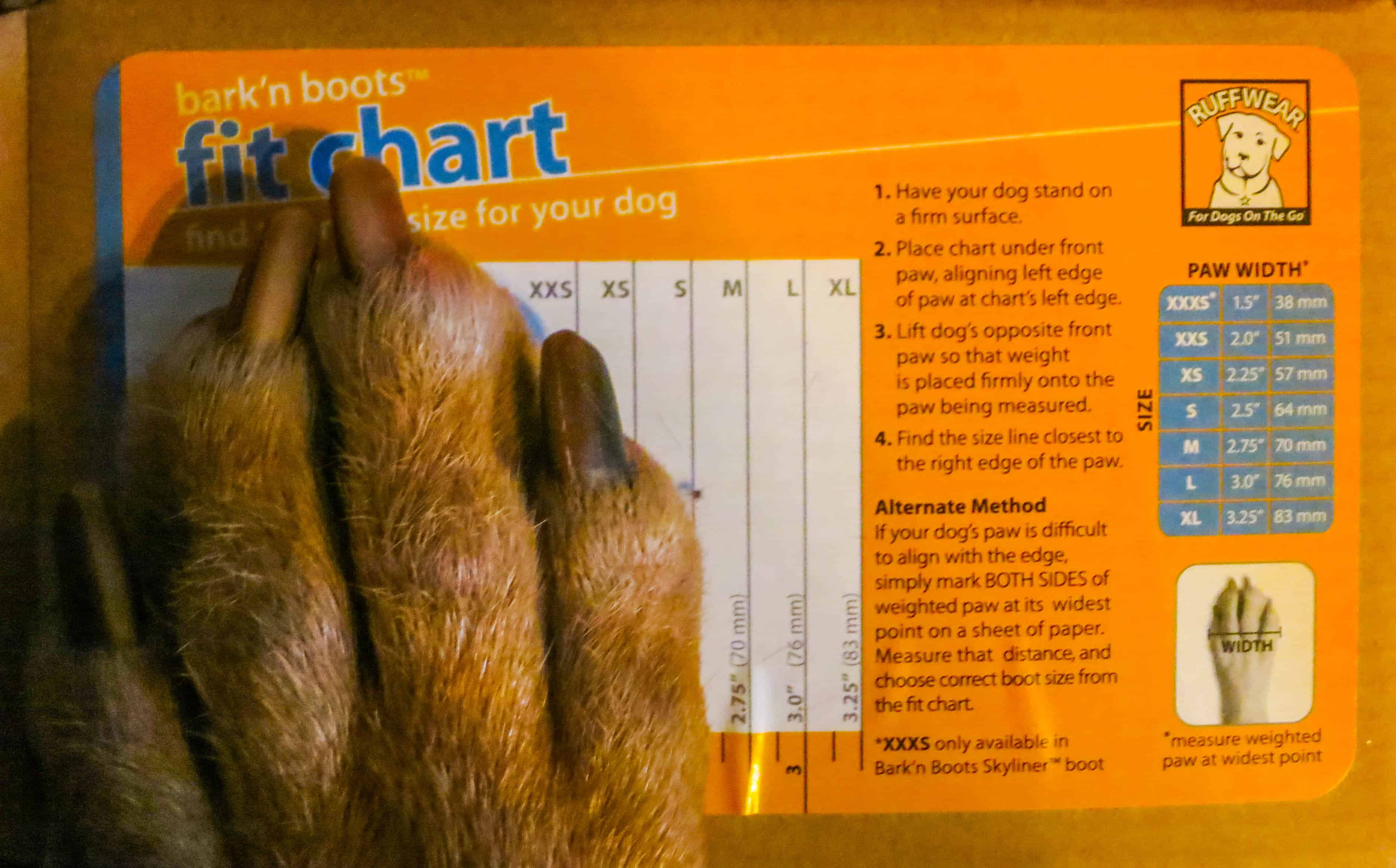 When lined up properly, Eko's paw size meant he needed a large boot
Unfortunately, I don't have photos from putting the boots on Eko because I was laughing too hard to hold the camera steady.  Eko was amicable about getting the boots on and I made sure he was well rewarded for his patience.  The true joy was watching him awkwardly dance around the store as he walked in boots for the first time.  Eko did not find the boots quite as funny as I did.
"Excuse me miss, you are going to take these off now, right?  Right?"
I couldn't help but remember the first time my parents stuck me in a dress suit.  I fidgeted and awkwardly struggled to get comfortable while they just laughed themselves silly.  Like Eko, I didn't find the occasion funny either, but I'm hoping that just as I came to appreciate a good suit for the right occasion, Eko will appreciate the boots for their protection.  For the moment however, his appreciation levels are hovering somewhere around zero.
"Do you see me laughing, Will?"
Our ten minute walk to the pet store turned into about a thirty minute trek home.  Eko huffed and puffed the whole way home, but in between giggles I did my best to heap lots of praise on him.  Eko is currently sleeping off the trauma of being forced to wear boots, but we will give a full test-report on the boots tomorrow.
Anyone have any particular tips about acclimating their pup to boots or any other related tricks?  I may need all the help I can get on this one!  Eko and I have a winter adventure in the works for the end of February and I want to make sure he is comfortable with the boots by then.