We live in the future. What we now do on a daily basis on our computers, phones and tablets would be considered witchcraft for most of human history. From riding by our side in electric cars to
sharing our iPads
, our pets are along for the technological ride. An emerging market in this future of ours is "wearables" – activity monitors like Fitbit and Nike+ are common examples. It's no surprise then that a number of companies (Whistle, Tagg, Garmin – to name a few) have produced similar monitors for pets. Through a mutual friend I met Brandon – a guy who has done some freelance consulting for Whistle. When he heard about Penny and Eko he offered me an extra unit to test out.
Whistle monitors your pet's activity/rest and syncs the information to an app on your phone
Whistle easily and unobtrusively attaches to any pet collar
Attaching the device was simple. Next I downloaded the Whistle app and followed instructions to sync the device with my phone (via bluetooth) and home wifi network. (If you're not particularly tech savvy, this part of setup is a bit of extra effort.) I double checked to make sure all was in order and had my unit fully set up in about 15 minutes. Great! …now what?
The best new technology is both cool and useful. However, oftentimes new technology is cool without being useful. This past week I put Whistle through its paces to see what it could tell me about Penny and whether that information was useful.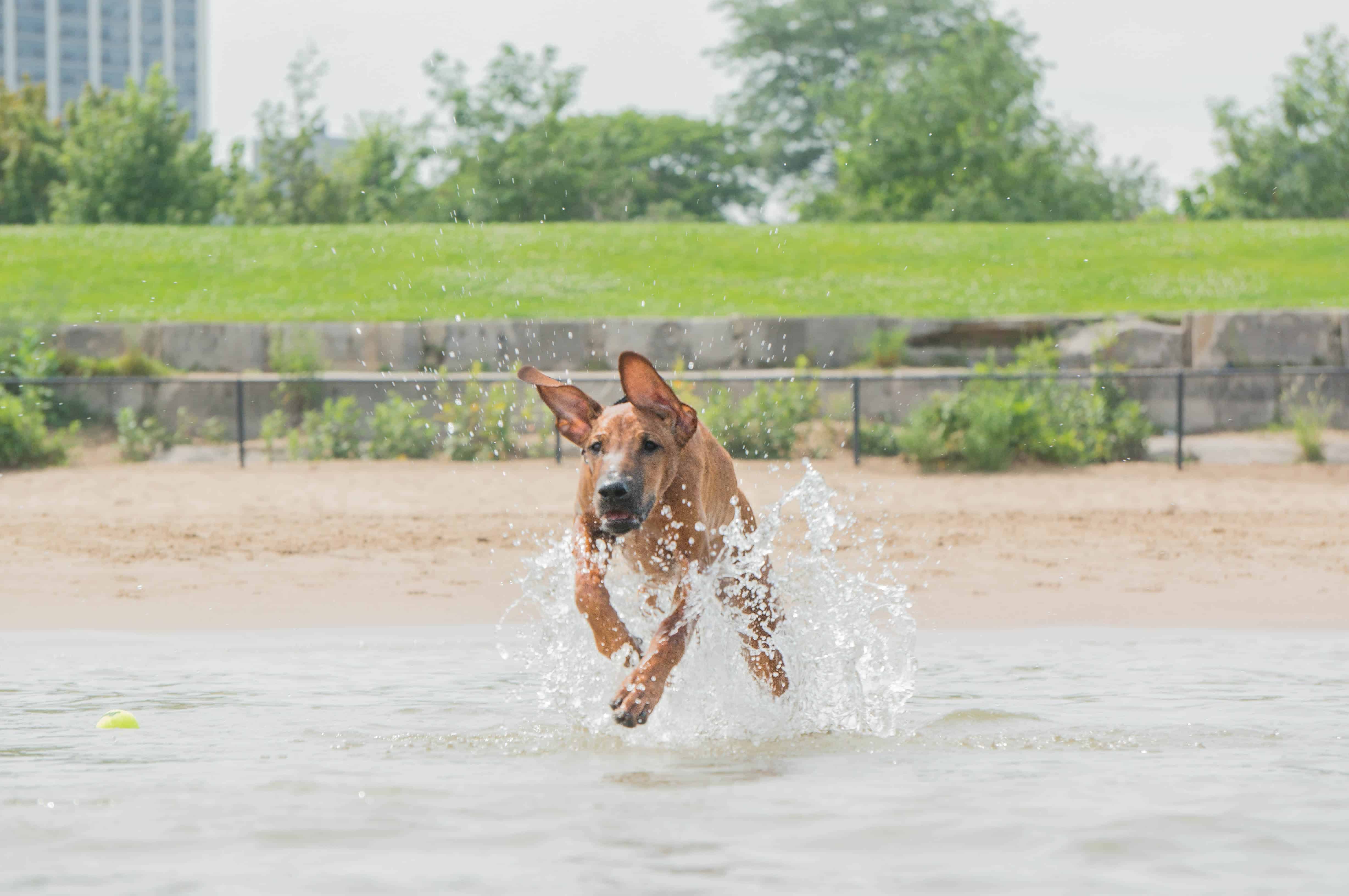 Although lightweight, the Whistle proved to be durable, rugged and waterproof. I also liked that I could forget about the unit – it stays turned on (no button pressing) and a single charge kept the unit running for over seven days
I initially worried about losing or damaging the unit but no problems there. If Penny (my shampoo commercial model) can't destroy it, no pup can
In terms of physical performance, Whistle is top notch. I haven't had a single issue with the unit or its data transmission. But the real reason you buy a unit like this is for the data itself, so that's what I was most interested to review.
I can pull up Penny's activity on my phone anytime to check her hourly/daily activity and I also received a helpful weekly email review
At first I wasn't impressed with the result. I took Penny to the beach, she ran around like a maniac for an hour, I looked at the app and it confirmed Penny ran around like a maniac for an hour. How does that confirmation add any value to my life? It would be interesting to see how much distance Penny covered at the beach but Whistle does not have GPS tracking. (A quick look at Whistle's site looks shows its next model is GPS enabled)
What I came to realize is that the value of an activity monitor isn't in a single piece of information but in the large amount of data over a long amount of time that you can easily review. It's also nice to have a reminder when I'm slacking and need to get out with Penny for some adventure. I appreciate that Whistle tracks not just walks/run, but also indoor romps and activities. Most importantly, activity levels are a health indicator and I like Whistle as a tool to monitor Penny's overall health and growth.
Whistle does not yet track games of three cup monte, but maybe one day
So the big question. Is Whistle worth the $130 price tag? As with almost all new technology, my answer is "It depends."
If I was out of the house for most of the day and had a regular dog-walker? $130 is definitely worth the peace of mind to know my pups are well cared for. It would be nice to be at the office and be able to check in on the dogs while I'm away. I luckily have a great dog-walker, but Whistle would have undoubtedly saved a few of my friends who have had dog-walkers who quite literally cut corners on walks.
If I lived in the country or if I had escape-prone dogs, I would likely spring for a Tagg or Garmin GPS enabled collar. But as it stands, I work from home, live in the city and only let my pups off leash in safe areas so I'm not ready to buy an activity monitor for Eko. Not yet.
Like all emerging technology, activity monitors are poised for incredible growth. I imagine Whistle-type collars will become the norm for all pets. Not only will these collars track activity and location, but I suspect they'll also track things like heart rate/body temp and alert us when our pets are in danger.
One of our pets' few shortcomings is they can't speak to us. I love that activity monitors like Whistle provide a voice for our pets. It's new technology now, but I would be surprised if "wearable" collars are not the standard before long.
So what do you think? Anyone out there have experience with pet activity monitors? What features would you want in a "wearable" collar?