Pet parents know the importance of teaching our four-legged buddies good manners and good habits from a young age.  My friends and family thought it was the cutest when three-month-old Eko would jump on them, and many didn't understand why I corrected Eko with such a firm voice.  After all, it was so cute!  But  as anyone who has had a larger dog can tell you, what is cute at nineteen pounds is not so cute at ninety pounds.
Teaching Eko not to beg at the dinner table was one of my greatest achievements.  Now he quietly sits in the corner of the room and stares.  We've settled on the rule, "It's ok to look, but not to touch"
Training a pet takes a lot of discipline, consistency and love, but some friends and family only give pets one of those things – LOVE!  Just like your grandparents gave you candy when your parents said you couldn't have any, we all have at least one person who spoils our pet with lots of love and LOTS of treats.  In my family, that person is my sister, Helen.
Eko still never gets any food off the table, but he knows that Aunt Helen will always let him sit closer than I will.
Helen actually lived in Chicago before Eko and I moved here, so Eko has had plenty of play dates with his favorite aunt.  However, Helen recently got a promotion for a job in NYC, so she didn't renew the lease on her apartment.  Can you guess where she's living until she moves in two weeks?  That's right, Eko has a new favorite roommate.
From extra treats to extra love, Eko has soaked up all the attention Helen lavishes on him
And when it's time to sleep, Aunt Helen is there to make sure Eko is as comfy as can be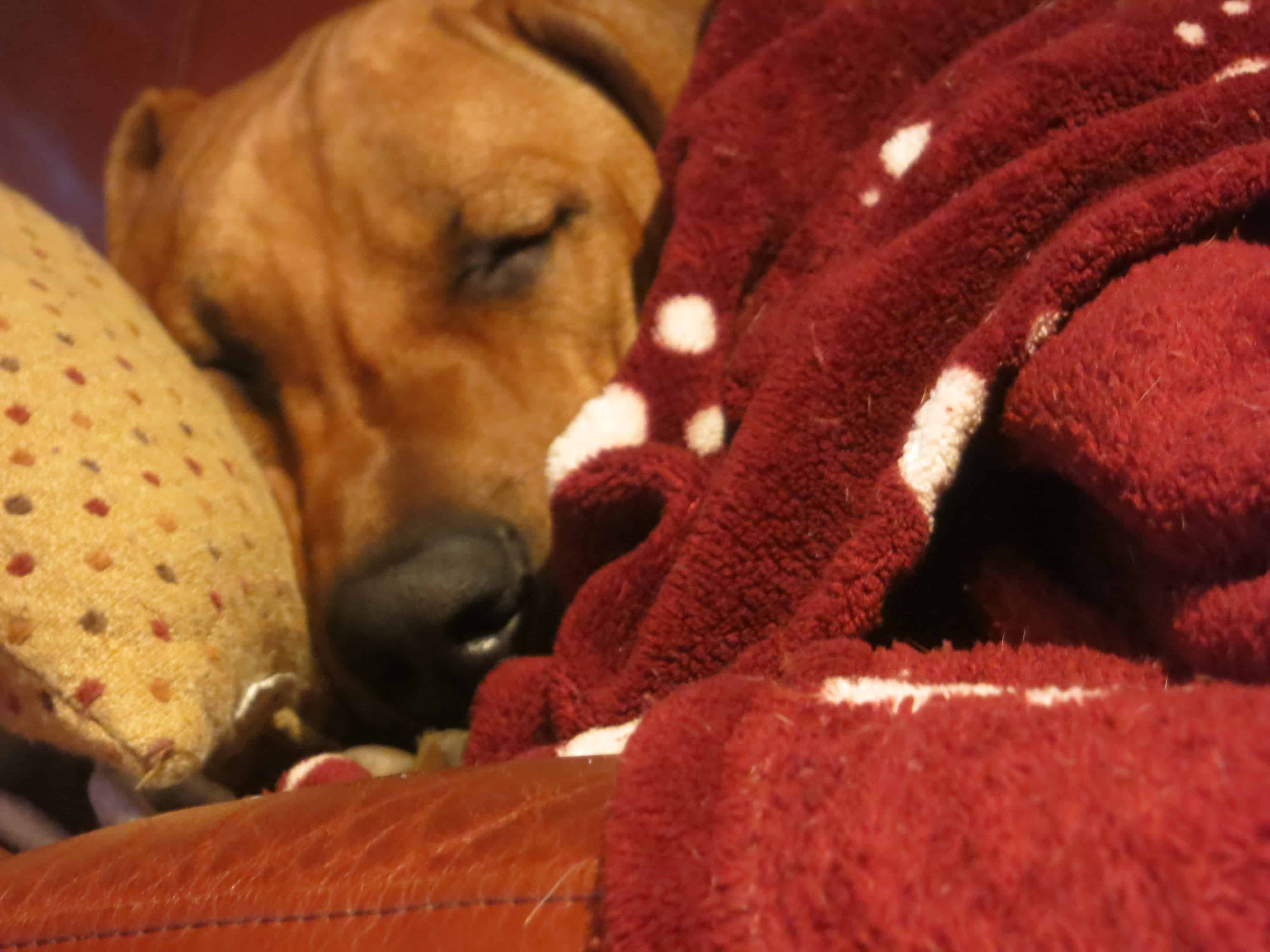 The tough life just keeps getting tougher
My grandparents spoiled me with love and I turned out just fine…you know what, based on some of my previous blog posts, I'm probably not a good poster child for "turning out fine."  But I bet you were spoiled by someone and you turned out fine!
Sure, Helen may sneak Eko some extra treats that I wouldn't have and she may bend the rules once in a while, but I think all pets are better off with a healthy dose of unconditional love.  Eko sure thinks so!