My whole family was in NJ this past weekend for my cousin's wedding, so my mom's house was crowded with visitors.  She always told us that she couldn't wait until the day when she would once again hear the pitter patter of little feet running through the house. Somehow I don't think this is what she had in mind:
Eko and Dutch (my brother's dog – right side) might not have been the grandchildren my mom was hoping for, but she still welcomed them with plenty of treats 
It was a busy weekend and on a few occasions I found myself responsible for taking all three dogs for a walk.  I made the mistake of trying to walk all three at the same time – an attempt I'm sure all the neighbors enjoyed – only once.  After that fateful trip (literally) I decided to walk no more than two at a time.  But you look at these faces and try to tell one of them they have to wait!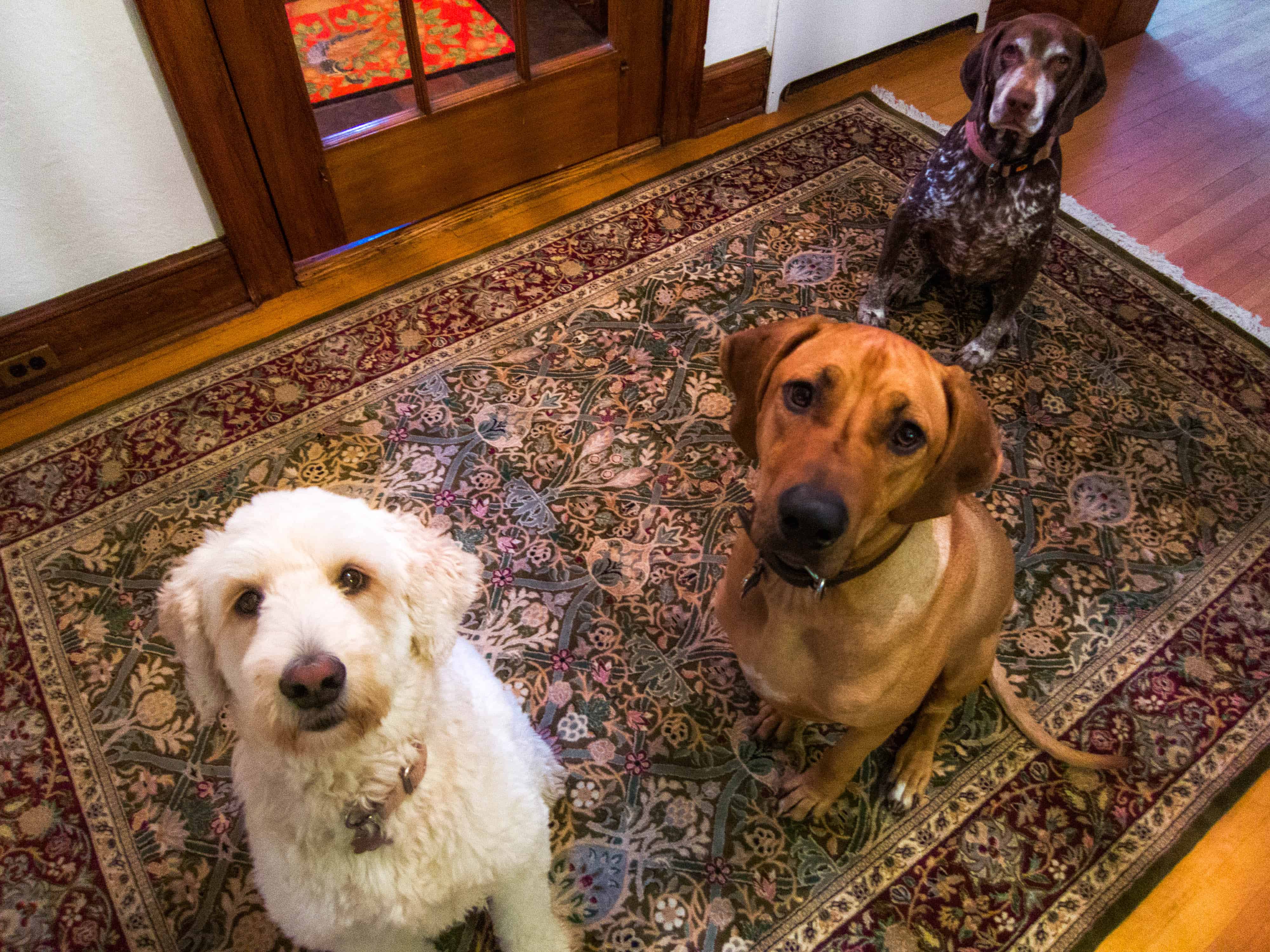 When I said the word "outside" the pups all formed a blockade in front of the door.  At nine years old, Dutch is the elder statesdog of the group so I settled on walking him by himself first.
As we pulled into the driveway after the wedding I imagined walking into a scene with flipped couches and overturned tables, but I was pleasantly surprised to find that the three dogs had decided to spend the evening on the couch.
Taking it easy
Of course all that rest just meant that Eko had plenty of energy to show Scout and Dutch the best ways to cause trouble.
This blurry shot was taken en route to chasing Eko after he started to flip the carpet.  Hopefully Scout and Eko don't pick this trick up!
I also took some video of the dogs playing together which I will hopefully be able to edit together once I get back to Chicago.  It was a bit of a challenge to figure out the best way to feed, walk and care for multiple dogs at the same time, but it was definitely worth the fun I had watching them play.  Eko is happier and livelier with other dogs around so I hope to get him a permanent little sibling one day.