In all the excitement of moving to a new city and wrapping up the road trip of a lifetime, I somehow forgot to answer one of the most important questions from our time on the road.  Luckily, a reader named Connie emailed me and asked for a post that answers the question, "What are some general tips for anyone planning to travel with their pet?"So here it is, long overdue (thanks Connie!), Will and Eko's Ultimate Guide for Traveling With Your Pet! Today I'll share some specific recommendations about what to pack/how to get ready and tomorrow I will post a top ten list of general tips that I think are helpful for any future human/canine/feline adventure teams.
Chapter 1: Where Your Pet Should Sit  (Hint: Wrong answer above)
Traveling with your pet is an exciting adventure and you will be tempted to jump in the car and hit the road.  But just like you need to pack and plan for yourself, you also need to do the same for your pet.  Planning a road trip with your pet definitely involves additional work, but if you do it right the first time it will make your adventure infinitely more rewarding.Cars are designed with the safety and comfort of people in mind, so you will need to do a bit of retooling to give your pet that same safety and comfort.  If you have a smaller pet or a larger vehicle, strapping down your pet's carrier or kennel is an easy way to keep your pet safe and comfortable on the road.   Many adventurers, myself included, don't have the necessary space for their pet to travel in a crate, so in that case the back seat is the place for your pet to ride.
Eko's too big to fit in the front seat, but even if you have a small dog, it's always safest for them (and you) to ride in back
Also make sure to invest in a comfortable car harness to keep your pup strapped in safe
If your pup is in a kennel or riding in the back seat with a harness, you have taken care of their safety, which is your most important job.  But just like you, your pet can get bored and uncomfortable during a long car ride.  If you have any old blankets, you can lay them across the back seat to make it a more comfortable spot for your pooch to ride.  I liked using an industrial grade blanket because it was comfy for Eko but it also protected the car from a frequently muddy/sandy/wet/dirty pup!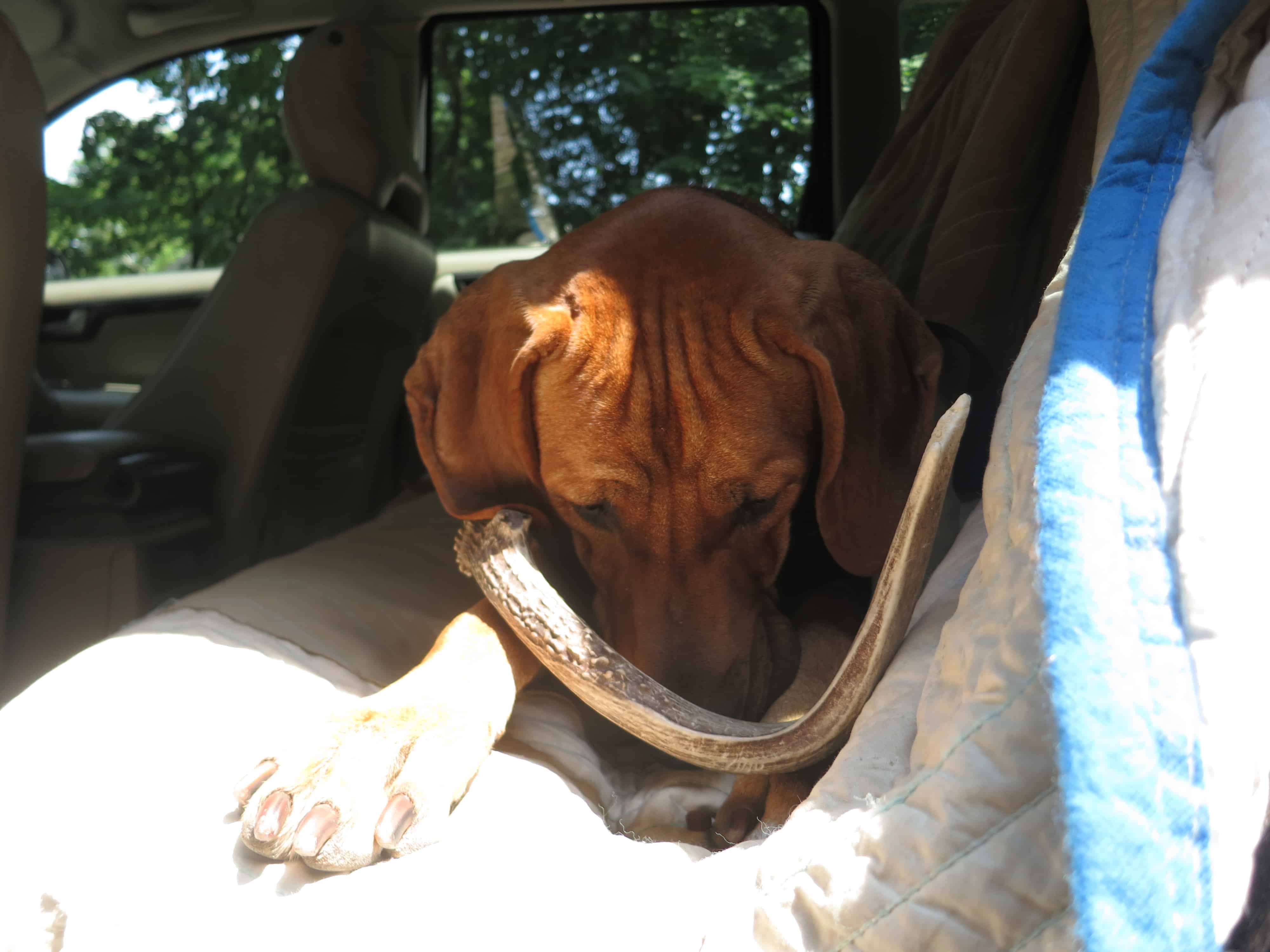 Don't forget to throw your dog a bone (or toy) to help keep them occupied and content
Here is a quick packing list that will make life easier for both you and your pet:
– Treats/toys: They keep your pet happy and they keep you sane.
– Collapsible food/water bowls: These easy to carry travel bowls make eating/drinking on the go much more convenient
– Towels:  Even if you are going to the driest and cleanest place on earth, your pup will find a way to get wet and muddy at some point.  It's just what they do.  Pack a couple old towels and thank me later!
– Pet essentials pack: Pack one bag which always is stocked with everything you need to take a day trip with your pet (including water).  It was incredibly useful to have one small bag with all the essentials packed for adventure at a moment's notice
– Your pet's medical history: Hopefully you will never need to visit the vet while you're on the road, but if you do, you will be thankful you brought your pet's records with you.   It only takes a quick trip to your vet to pick up your pet's medical history/vaccinations and your pet can get faster and more comprehensive treatment from a vet who can look at the pet's full history.
And of course, don't forget to pack your sense of adventure! Now that we have helped you get packed, check back tomorrow for a list of general tips that will help make your next road trip with your pet the adventure of a lifetime.