Once my brain got going with yesterday's post it just kept on going as I tried to come up with a list of my favorite dogs from movies. I learned my lesson reading yesterday's comments that there is no way to limit the list to ten; too many good choices!  However, I shall try.  I kept my choices to real dogs (not animated or CGI) as it shows just how impressive these pups really are.  Let's keep things rolling – here are ten of my favorite dogs from movies.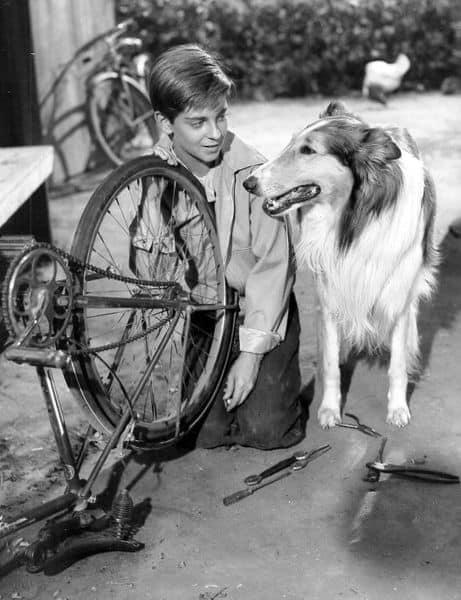 Lassie – Lassie
Lassie, probably the most famous movie star pup, has origins in a story possibly written as early as 1859.  I saw the 1994 remake first but would catch old reruns on TV.  As far as I can tell, despite the popular joke, Lassie never saved Timmy from a well.  Another interesting note is that the dogs that play Lassie today are descendants of Pal, the original dog who played the role.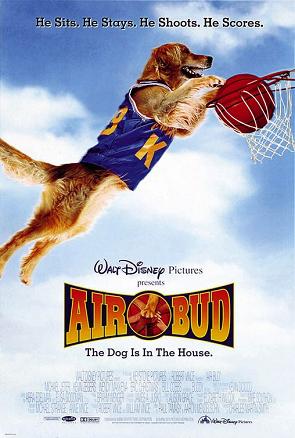 Air Bud – Air Bud
What's the plot of this movie you ask?  Who cares, it's a dog that can play basketball!  I was old enough when this movie came out to know that it was thoroughly absurd, but I didn't care then and I don't care now.  Air Bud is awesome!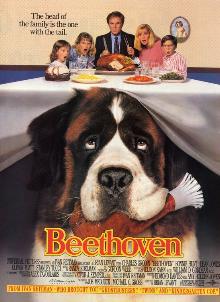 Beethoven – Beethoven
Whenever people ask me my opinion about Beethoven, I ask them to clarify whether they are speaking of the genius that was the classic composer or the genius that was the lovable St. Bernard from the movie of the same name.  My livingroom filled with loud cheers when Beethoven helped free his captive brethren and the animal abusers were brought to justice.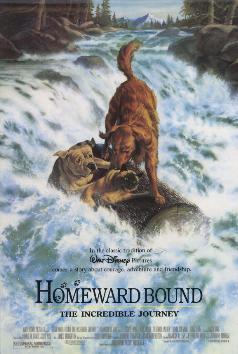 Chance/Shadow – Homeward Bound
Quite frankly, the acting of the two dogs and one cat that star in this movie is superior to much of what comes out of Hollywood.  The story is captivating and the reunion of people and pets at the conclusion of the film still brings a smile to my face.  You would be hard pressed to find anyone around my age who doesn't love this movie.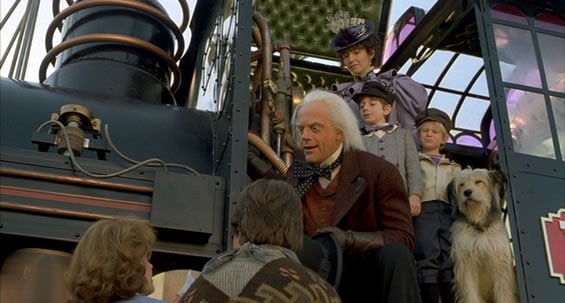 Einstein – Back To The Future
The Back To The Future trilogy is one of my favorites, so it's not surprise the cast includes a pup.  Einstein, Doc Brown's Catalan sheepdog, is actually the first one to time travel successfully.  While saving history is important Doc Brown makes sure that Einstein is always well cared for – now that is a dog lover!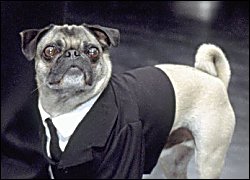 Frank – Men in Black
The Men in Black franchise is another favorite of mine and Frank, an alien disguised as a pug, has some of the best one liners.  Not too shabby considering he's competing with Tommy Lee Jones and Will Smith for screen time.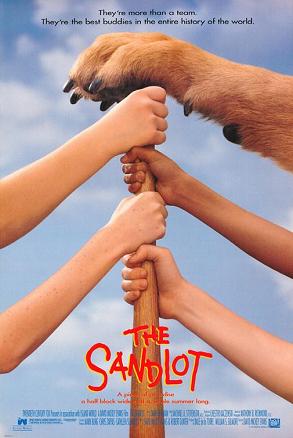 The Beast (aka Hercules) – The Sandlot
The Sandlot perfectly captures the feeling of childhood summers spent playing until daylight ran out.  Every kid has hit a ball into a neighbors yard and been scared to retrieve it.  In this move The Beast is the "ferocious" dog that guards the yard where the kids often lose their baseballs.  Not surprisingly, The Beast turns out to be a lovable mastiff who ends up helping the crew that once feared him.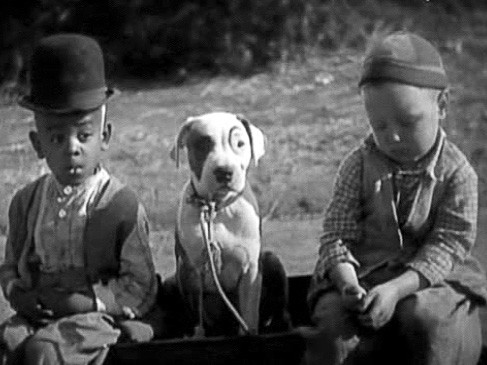 Petey – The Little Rascals
The Little Rascals, both the new movie and the old movie/shows were a staple of my childhood.  Petey was the perfect compliment to the rag tag group and I loved how he was treated as just another one of the gang.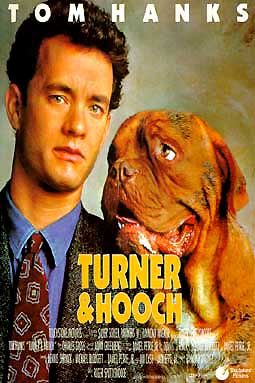 Hooch – Turner & Hooch
How many dogs can you name that have co-starred with Academy Award winning actors?  I can think of one, Hooch!  If you need more reasons to check out this movie I don't know what to tell you.
Tramp – Lady and the Tramp
Annnd I broke my promise!  Sorry, but there was no way I could leave this classic off the list.  No chance.  Spaghetti candle-light dinner scene…enough said.
I know there are plenty of  other worthy candidates out there, like Old Yeller and Rin Tin Tin, but I have to admit I never saw either of those movies.  So help me out here, what are some other movies with four-legged stars that I should watch?