A scattering of thunderstorms prevented our usual routine of long walks and trips to the park, but unfortunately Penny's puppy energy is not contingent on good weather. I've had to get creative with tiring her out indoors. We can only run so many laps in my small apartment before my downstairs neighbor decides to call the police, so it's important I find ways to mentally exhaust the pup.
Almost two years ago (I had to double check that date, because I couldn't believe it had been that long!) I reviewed a number of pet-specific apps. The apps kept both Eko and me entertained, so I decided to show them to Penny to see what she makes of the 21st century.
iSqueek (free) – The three squeak balls each make a different dog-toy sound when pushed.  At first the sound drove Penny wild
"Where is that toy!? It sounds like it's coming from right here."
Once Penny figured out there was no actual toy, she completely lost interest. Time for the next app.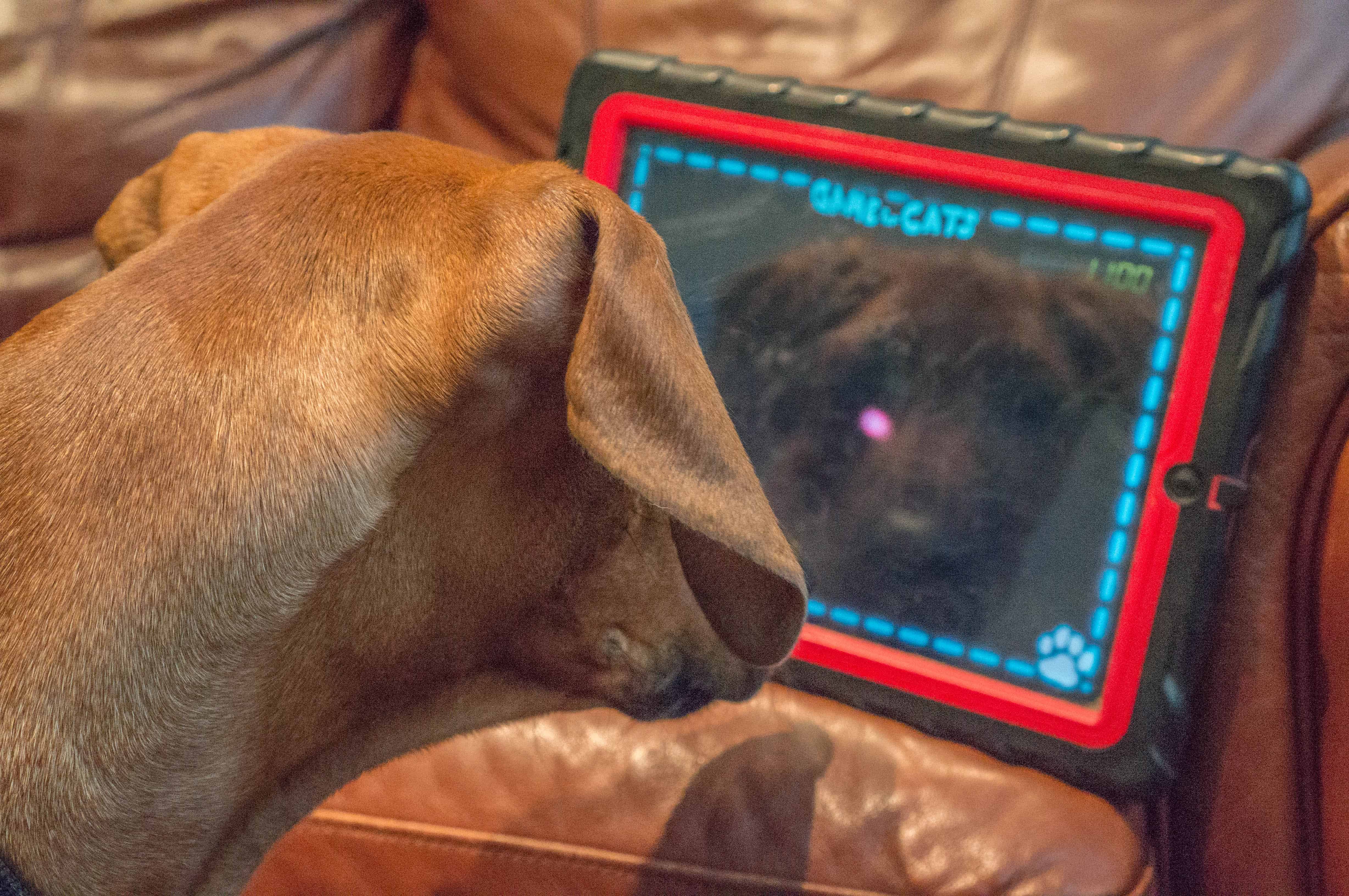 Game for Cats (free) – Now, there is a Game for Dogs app, but for some reason Penny was completely uninterested in it. However she found the cat-version quite enthralling and happily poked away with her nose.
Eko lounged through most of Penny's arcade session, but when I pulled up the next app Friskies Catfishing (free) he muscled Penny out of the way so he could play. It appears even after two years it's still his favorite game.
 "So we meet again, fish nemesis"
Once Penny wiggled her way to the screen, she watched the fish for a moment and then pounced. I'm just glad I have a tough case!
We also tried out a couple new apps for the first time. Dog Whistler (free) is exactly what you think it is – a dog whistle with a number of frequencies. Some of which only your pups can hear. I sat at nmy desk and thought the whistle was broken until Eko and Penny immediately came sprinting to check on the noise my ears couldn't hear.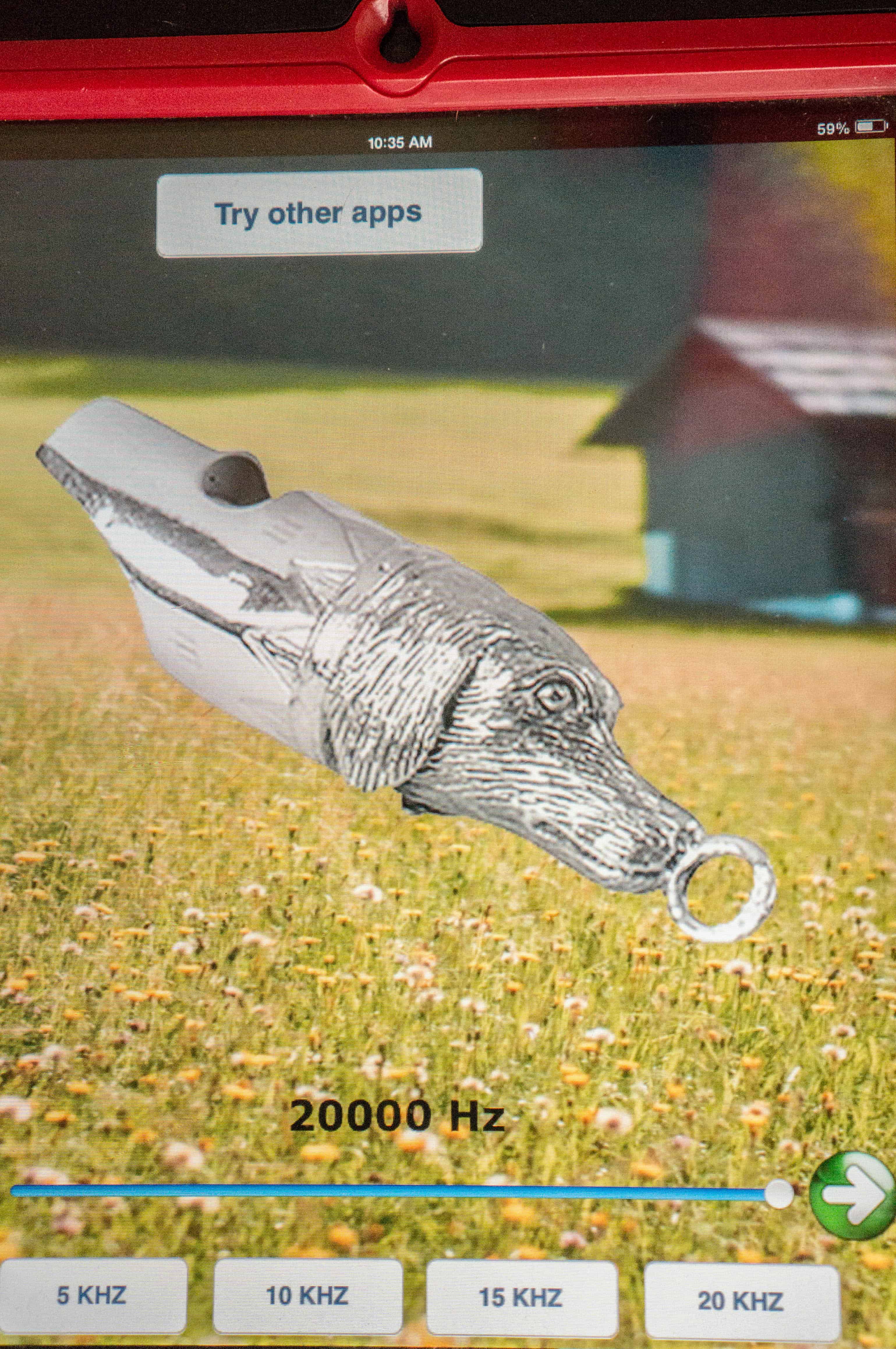 I'll have to keep this handy when I want to make sure I have their attention!
Lastly, I decided to splurge and spend $0.99 to download App4Dog. The app has a couple fun features I enjoyed trying out. First, you can set up two on-screen answers and see which one your dog will pick. For example, I asked Eko who he likes better, me or Emily.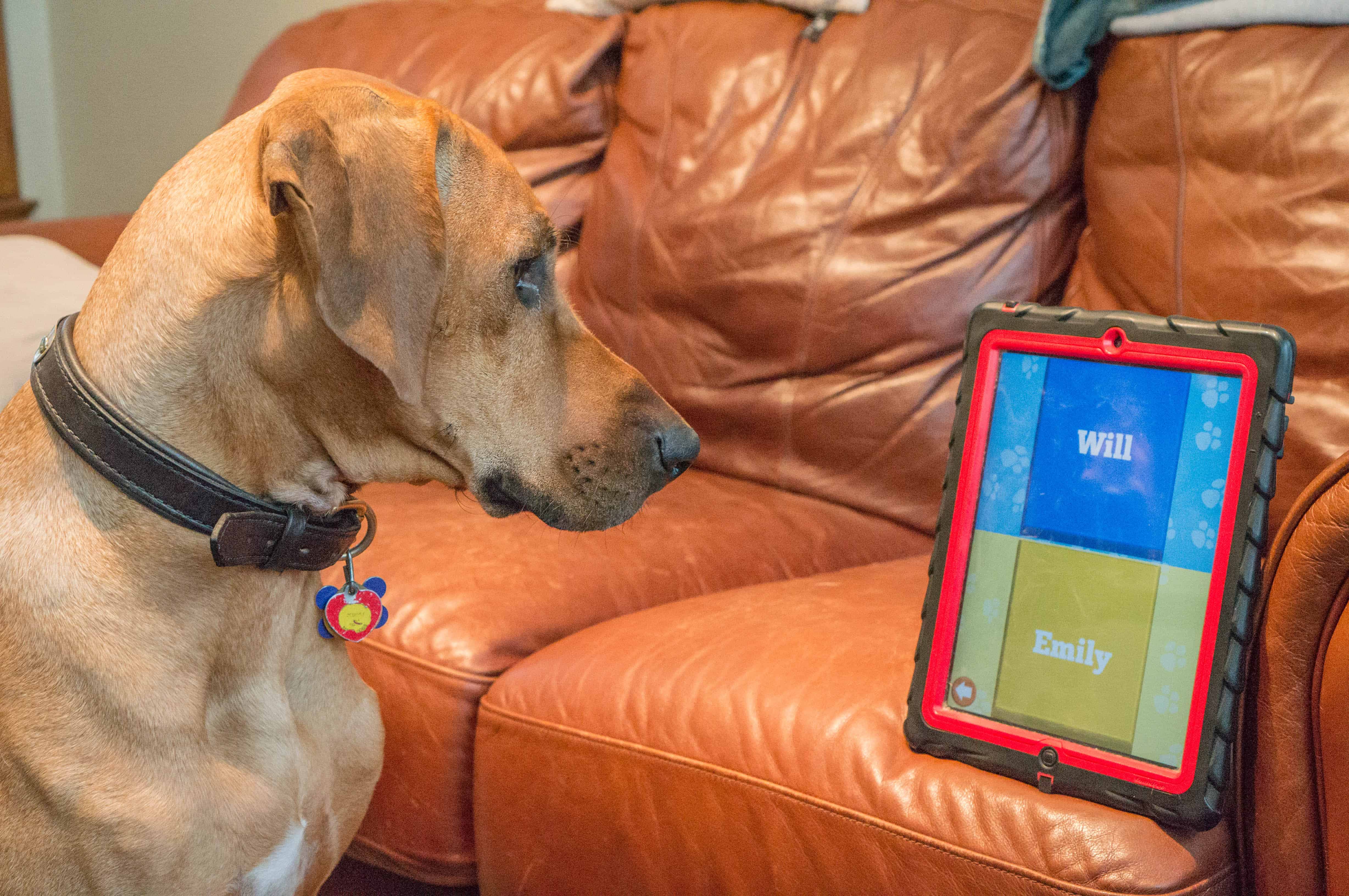 And now I know where the phrase "Never ask a question you don't want the answer to" comes from. The little punk went right for the "Emily" button. It confirms my suspicion he knows how to read
Since both the windows of my apartment and car are decorated with nose-art, my favorite part of App4Dog was the nose-art canvas. The colors of the brush changes with each "stroke" and the results cracked me up.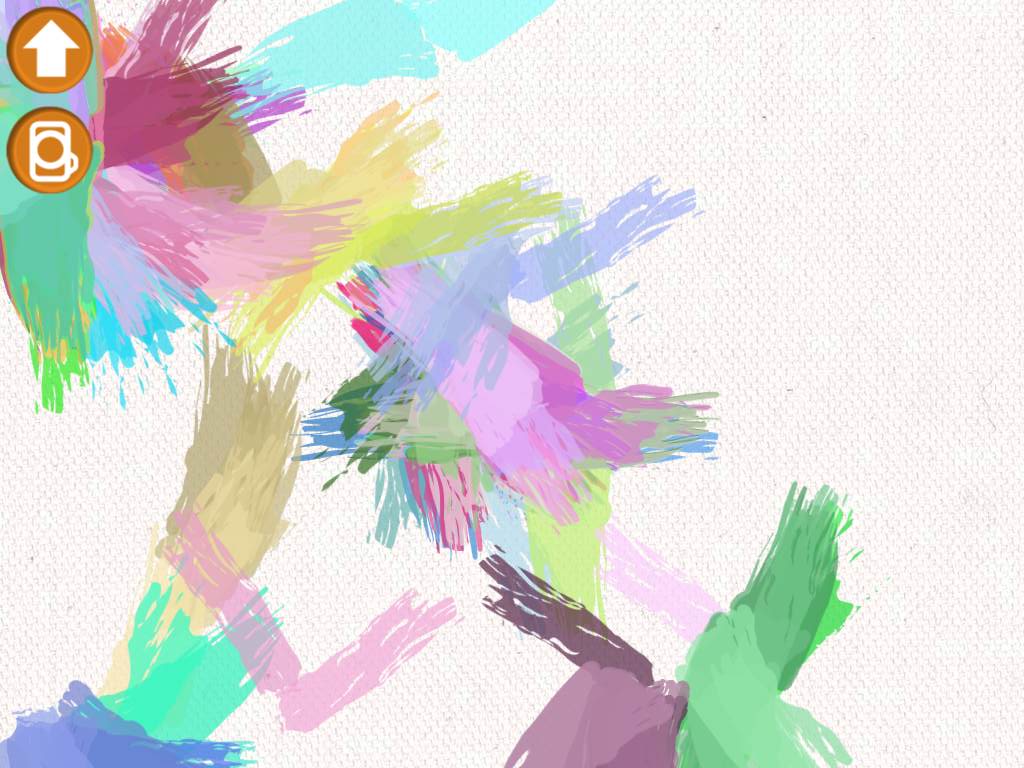 This abstract-impressionist work from Eko is called "Out for a walk"
And this minimalist piece by Penny is titled "Carrot goes surfing"
By the time we finished her art project, Penny was ready for a nap. Between painting, fishing, squeaking and chasing dog whistles, this little girl was whipped!
We caught a break in the weather today, so we're off for a real romp. But if you're stuck inside with a restless pet I recommend you check these apps out, they're almost all free and they're all good for a smile.