A number of people have asked me to list the best cities in America to travel with your pet, but until now I have held off.  There are so many factors involved that obviously there is no one "best" place to visit.  That being said, I just received a few more emails prodding me on the same question so I thought I would give it a go.  I'm sure I'm going to catch a lot of flak for leaving certain places off the list, but here are my top ten favorite places from our trip across the country.  To see a full list of the places we visited in each city, click on the city name.
1. San Diego, California
"Will, I did NOT sign up for this!"
If you and your pup love the beach, there is no better city to visit than San Diego.  There are more dog beaches, off leash parks and pet-friendly restaurants than you will ever have time to check out in one vacation.  If your dog is brave enough, you can even sign her up for surfing lessons!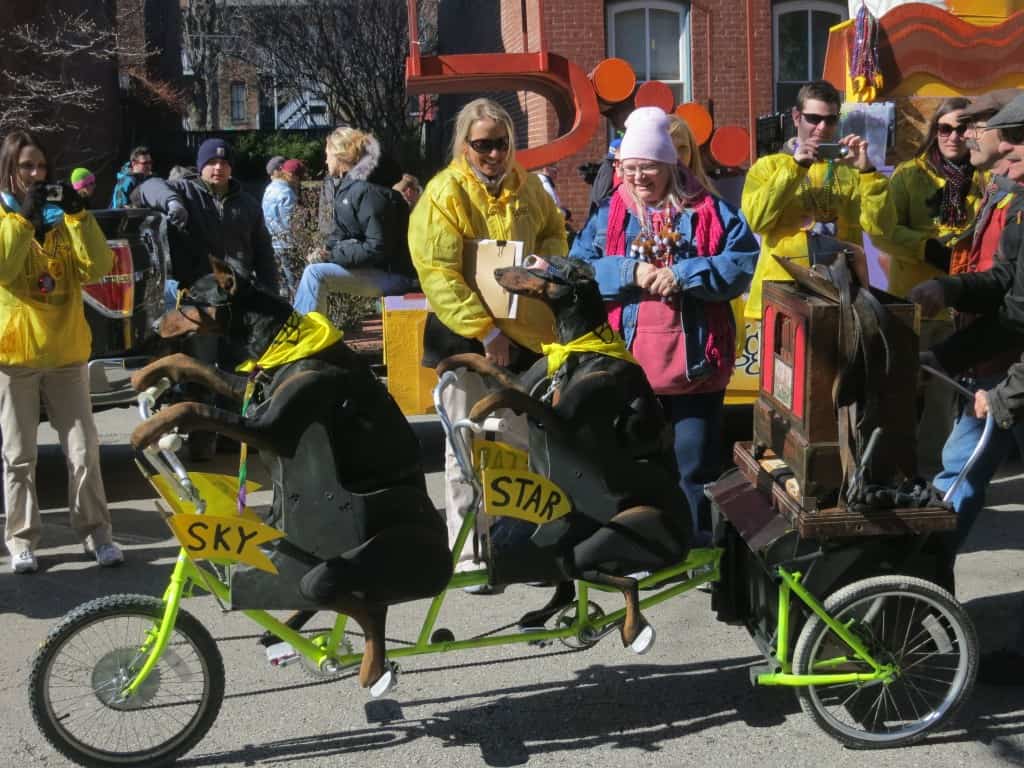 You never know what you'll see at the Beggin' Pet Parade in St. Louis
Walking around the Arch is great, but the real reason you should visit St. Louis is the city's large number of unique, pet-friendly destinations.  Pet parades, dog friendly wineries and the AKC Museum of the Dog – St. Louis has it all!
Move over Rudolph
With pet-friendly beaches, breweries and Bed & Breakfasts, Portland, Maine is the perfect spot for a pet-friendly getaway.  If you happen to visit in the wintertime, dogs/reindogs are welcome to hop aboard the Polar Express in downtown Portland.    Despite a strong audition, Eko unfortunately did not get a spot on the official reindeer team.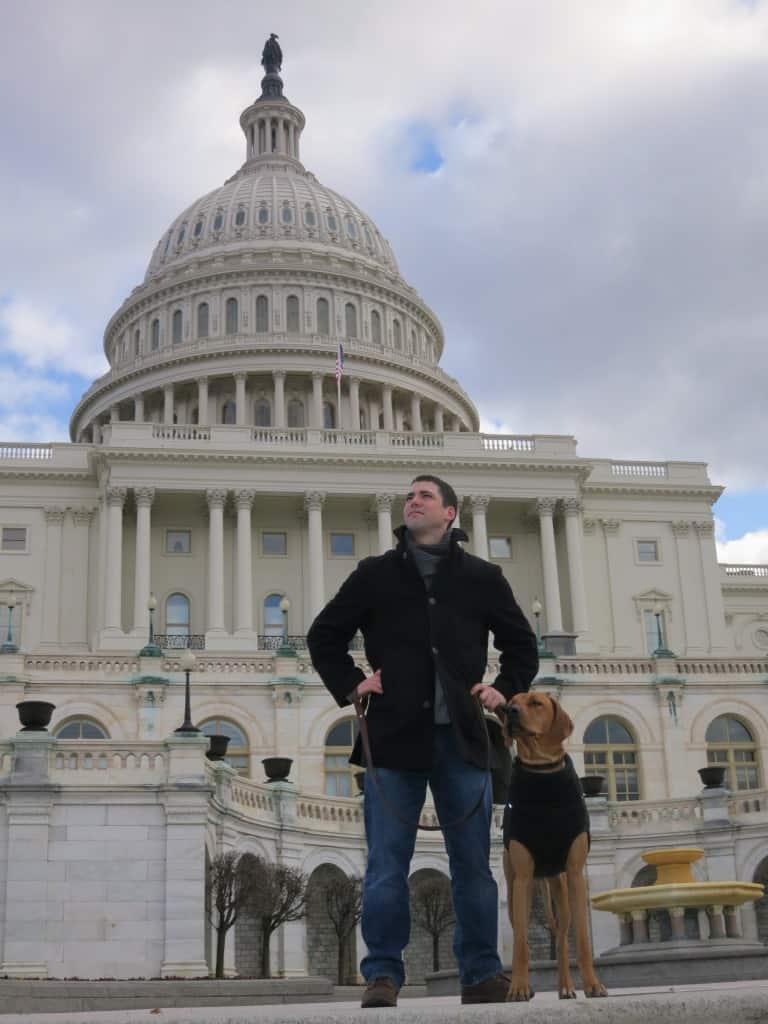 When the day comes that pets can hold elected office, Mr Eko will be ready
There is probably no city better set-up for four-legged tourists than Washington, DC.  The monuments and iconic buildings are all outdoors, so your dog is welcome to tag along on almost any tour. DC is also very pedestrian friendly, so you won't have to worry about how to get around with your dog.  Just head out the door and go!
Life is good in Houston
In no way did I expect Houston to be as pet-friendly as it turned out to be.  The dog parks are expansive and beautiful, the restaurants we visited all doted on Eko, and there was even a pool club where Eko and I swam together.  To top it all off, Houston is home to the Boneyard, a combination dog park and bar (genius, I know).  If nothing else, make sure to visit Boneyard for its one of a kind atmosphere.
The Easter Bunny was looking good in Denver
Denver is the ultimate destination if you and your pup are outdoor adventurers.  The city is home to an abundance of hikes, parks and mountain trails that welcome pets.  I promise that you and your pup will sleep like babies after any outdoor adventure in the Mile High City.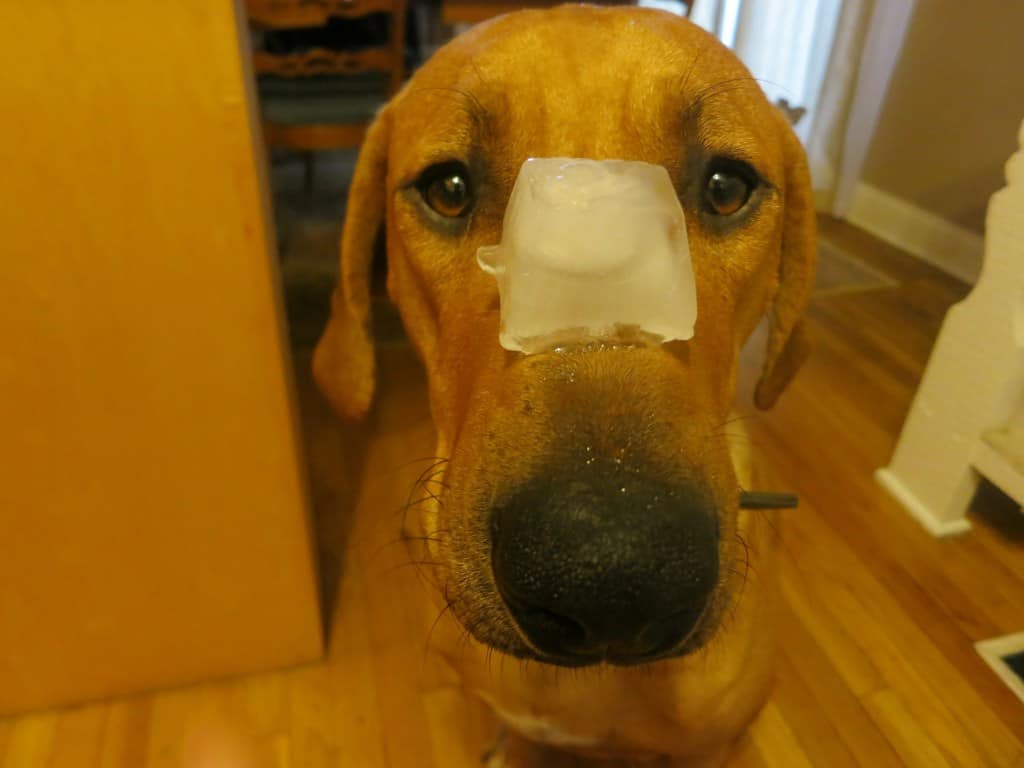 It's pretty cool in Chicago
I promise Chicago isn't on the list just because I live there now!  The Windy City has one of the best dog beaches in the country as well as some first rate parks.  Downtown Chicago is great, but if you're heading out with your pup, check out areas north of downtown like Old Town, Lincoln Park and Lakeview.  Or if you prefer to kick back and relax, take one of the many boat tours of the city where dogs are welcome on board.
Just your average Bostonian commuter
Much like DC, Boston's best sights are all outdoors.  Eko came along on a walking tour and we saw plenty of other dogs do the same.  Best of all, during off peak hours, dogs are welcome on the Boston subway!  It was so nice to be able to travel around the city without a car.  More cities need to follow Boston's lead.
Unfortunately our backyard in Chicago is not like our backyard in Montana
Ok, this one is a bit of a cheat.  I stayed in Emigrant, Montana, not Bozeman.  But really, it doesn't matter, just get somewhere close to Bozeman and you will be blown away by how beautiful the land is.  There is so much space that I didn't need to put Eko on a leash for the entire duration of our stay.  While you're in Montana, also make sure to take a drive through Yellowstone.  Both you and your pup will undoubtedly enjoy the trip.
10. Austin, Texas
Can you tell that Eko had fun in Austin?
Great weather, great food, great people – Austin is tough to beat.  The city is a paradise for people and pets alike.  If I had the chance to revisit one city from our whole trip, there is a very good chance it would be Austin.  Whether you want to go for a hike, grab lunch or go shopping, your pet is welcome just about everywhere in Austin.  If you have a chance, make sure you check it out!
Just a quick reminder, these are my favorite cities, I'm sure you guys have your own!  If there is a favorite stop from our trip that I didn't include, or if you have your own favorite city to visit with your pet, let me know!  Eko and I are always looking for new adventures.