Last year Warren Buffet offered one BILLION dollars to anyone who could pick a perfect NCAA March Madness bracket. No one won it, but out of all the brackets submitted across the country, mine was 150th best. Not too shabby considering I let MY DOG make the picks. Don't believe me? Here's the
video evidence.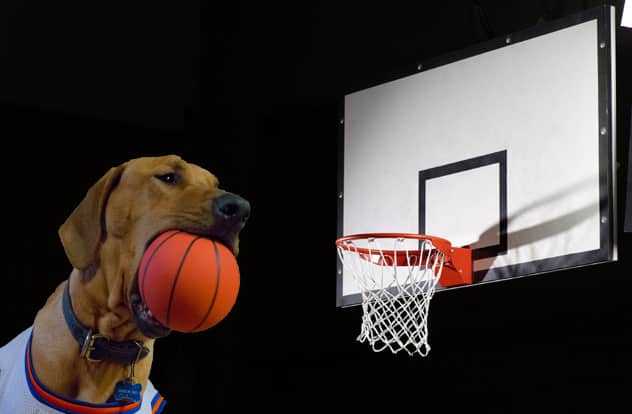 Eko's picks were a slam dunk
This year I have twice the dog-computing-power so there was pretty much no question I'd win the billion. Except there's no contest this year. Coincidence? I think not. Buffet was clearly shaking in his boots at the prospect of facing off with college basketball's best prognosticators.
Penny thought it was hilarious Buffett backed down
We won't be sitting on piles of cash anytime soon but nevertheless it's time to make our picks based solely on which mascots we like.
The Colonials of Robert Morris are patriots, but we don't think they stand a chance
Same goes for the Hampton Pirates and all other teams with human mascots
But that doesn't eliminate too many teams as most choose one animal or another to represent their side.
If you like cats, this is your year. It seems nearly half the field, including the favorite, Kentucky, are named the Wildcats
But never fear dog lovers, you're well represented by Huskies, Bulldogs, Terriers and Great Danes. ("Will, why are you making me wear a dog costume, I'm a dog…")
Our dark horse favorite to make a deep run is a pup of the untamed sort. Don't sleep on the NC State Wolfpack 
But, dogs are loyal creatures, so these pups are doubling down on their old man's alma mater. Ladies and gentleman, I give you the 2015 national champs….
The University of Notre Dame! Taz, while not exactly our official mascot, will count for our animal purposes here
Sound crazy? That's what they said last year too!