Last week Eko and I –
with the help of the P5 app
– started to train towards the goal of having Eko
chase and catch flying discs
.  We started with the basics indoors, but for our next training session we needed to get outside.  Eko is not naturally inclined to focus on toys so I chose a gray and wet day to practice.  The park was quiet so I had Eko's full attention.  I was also happy to see that when I brought the flyer out of my bag Eko's tail began to wag – it seems the positive reinforcement was working!
We started with some tug of war to ramp up Eko's interest and excitement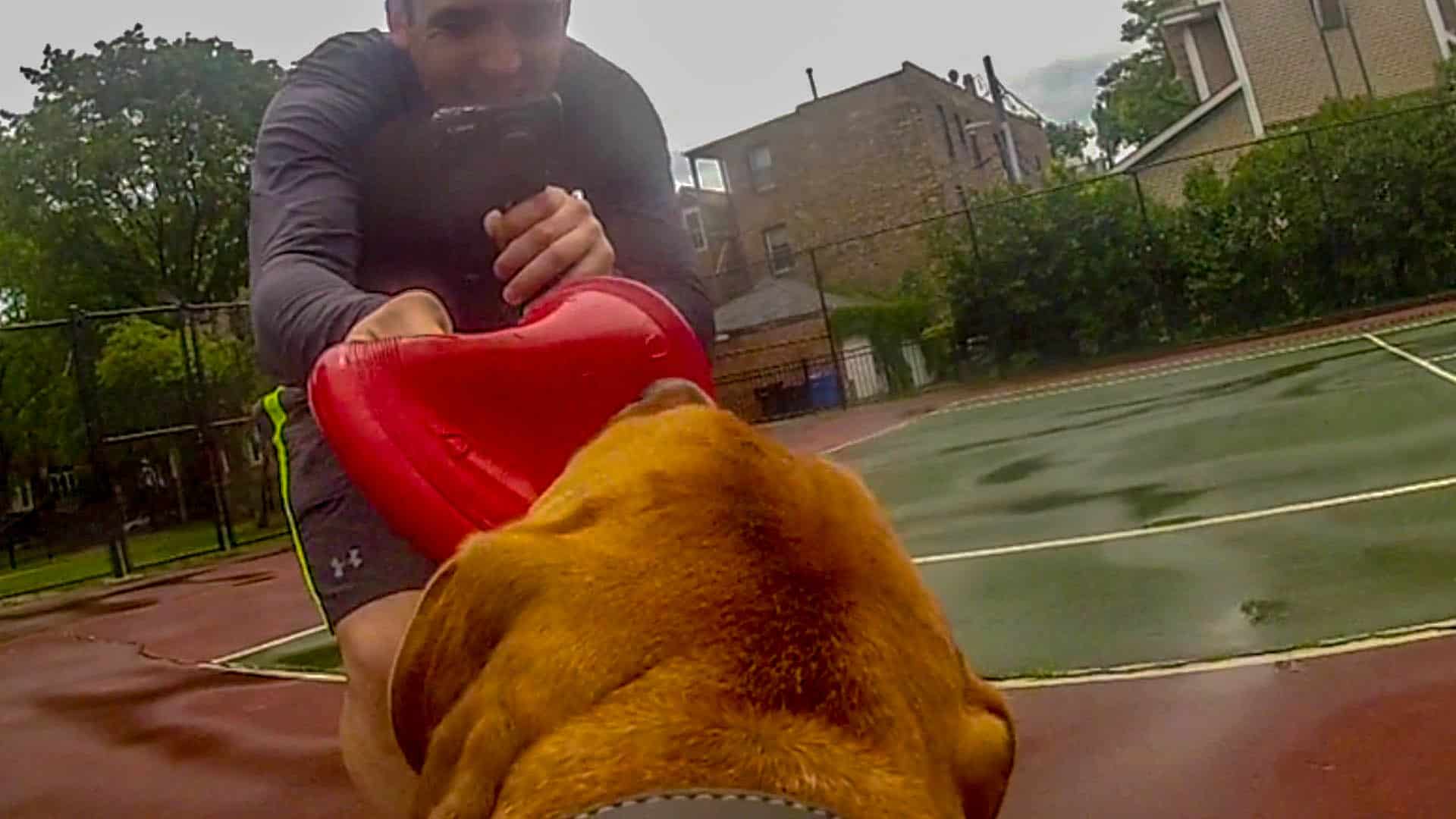 Here's how it looked from Eko's point of view
Before moving to throwing discs, the P5 app recommends starting with rolling the discs.  For a dog like Eko who is not inclined to chase flying discs, I found this intermediate step to be a very helpful stepping stone.
After tug of war, Eko was eager to play with the flyer.  I had him sit and then released him with my roll
Eko happily dashed after the rolling flyer and pounced on it.  I heavily praised him (and gave him treats, of course) and we repeated the exercise a few more times
After the rolling exercise, Eko was fully engrossed in playing with the disc.  My excitement made him excited and he was revved up for more play.  Next up we practiced what I like to call "T-Ball catches."  My arm was the tee and Eko had to jump to grab the flyer.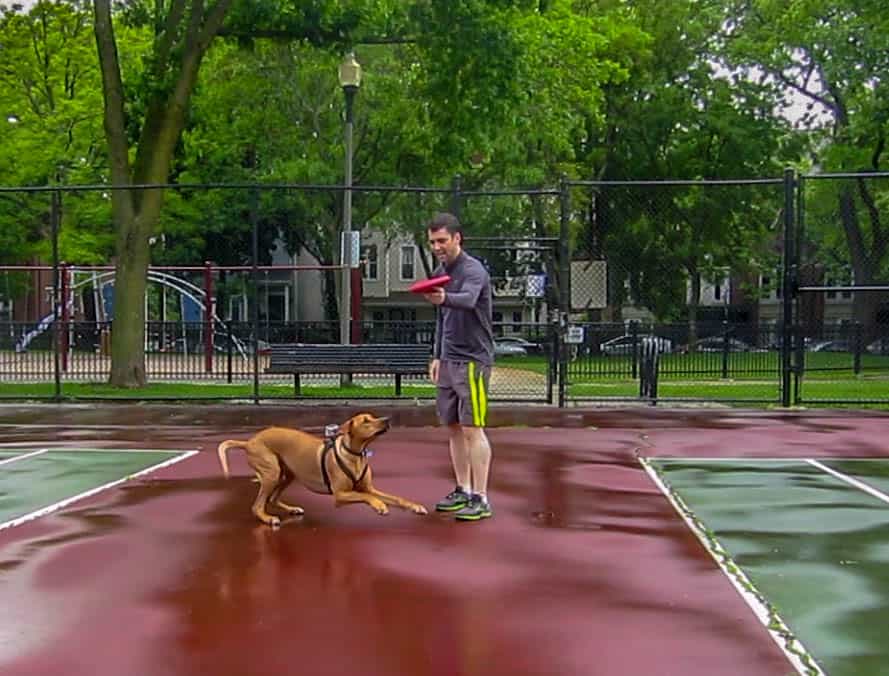 At this point I didn't even need to coax Eko, he was zeroed in on snatching the flyer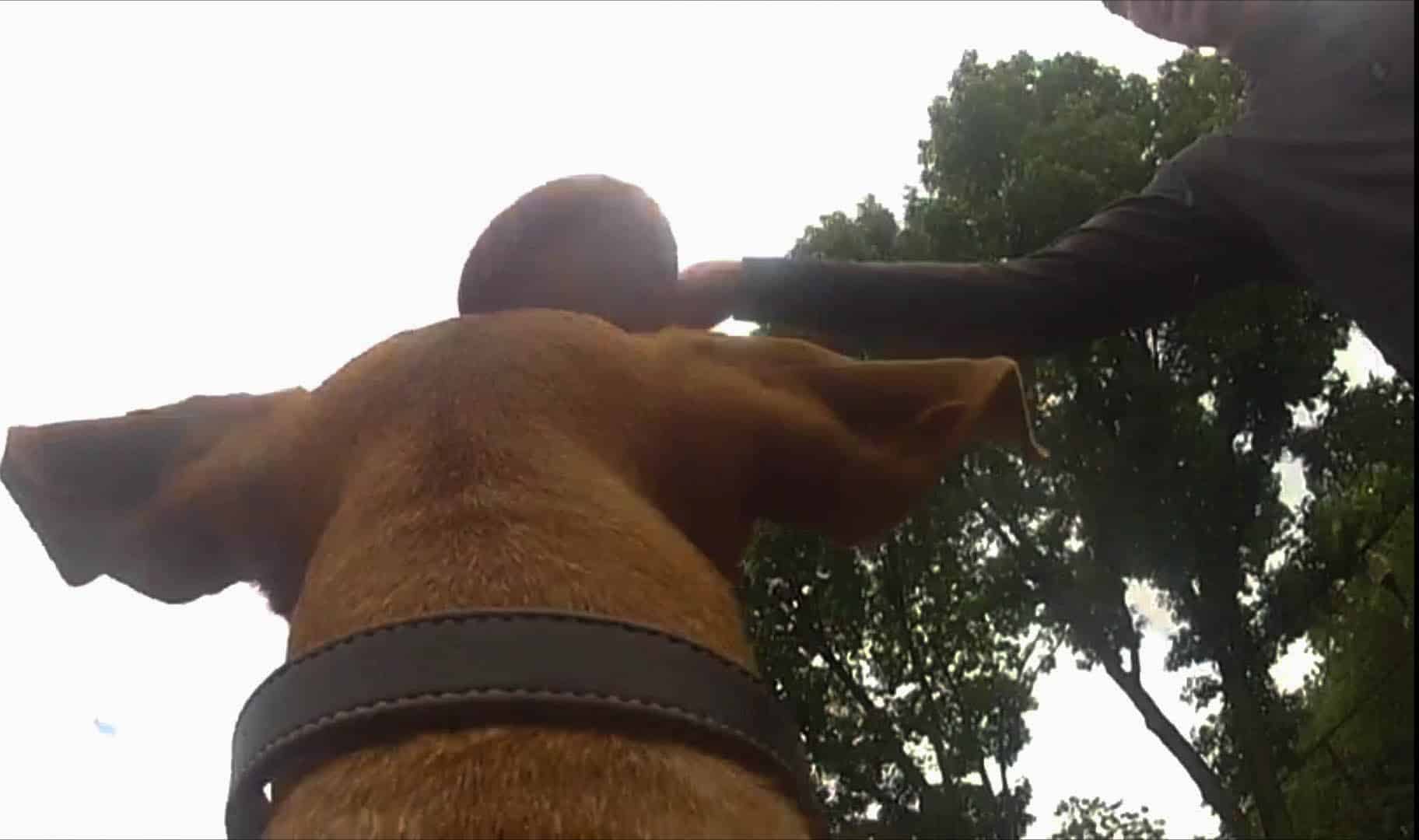 "Houston, we have liftoff."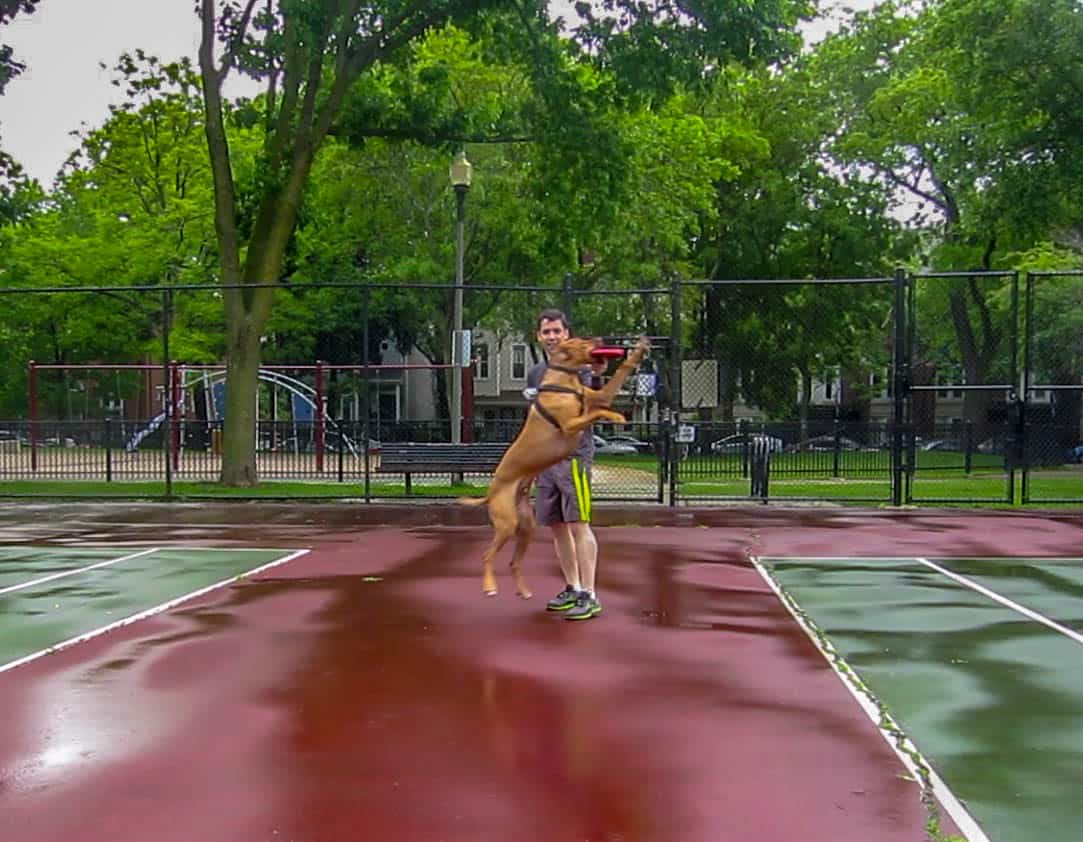 For the first time ever Eko took all four paws off the ground in order to go after a toy
Eko had a few nice T-ball catches under his belt and his tail wagged furiously after each one.  "Could this be the day!?" I wondered.   Eko was fired up about the flyer and I had a good feeling so I decided to attempt our first throw and catch….
Look at the focus!  Look at the intensity! Eko is locked in and ready to snag that flyer!
The throw and catch attempt was a total dud!  Eko watched the flyer alright – watched it fall right to the ground.  However, I remain undeterred.  We may have lost the battle but I believe we are winning the war.  In just a few practice sessions Eko has gone from entirely uninterested in the flyer to happily chasing, pouncing and catching (T-ball style at least!) it. The other great part about the training is that it provides excellent physical and mental stimulation to tire Eko out.
Teaching Eko to chase and catch flying discs won't be easy, but if it was easy it wouldn't be so much fun!